THE 2022 RC RANGE
BRINGING KTM RACE DNA TO THE STREET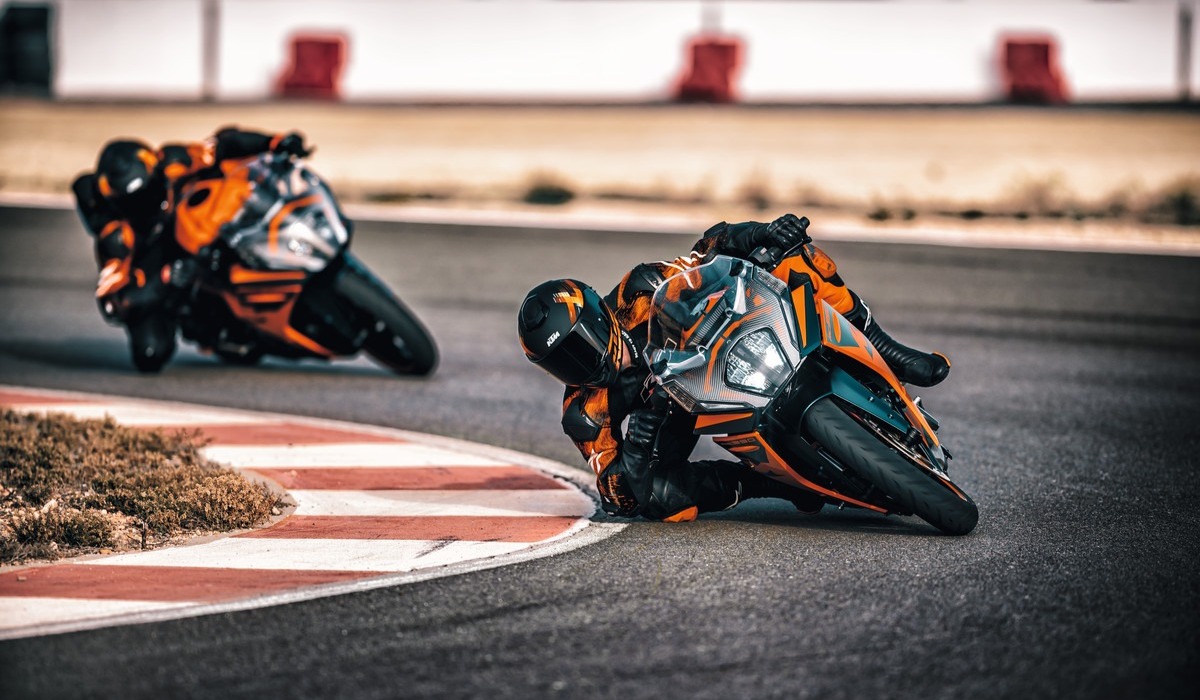 The KTM RC range has been a staple Supersport model in the KTM lineup for a number of years, filling the Sportsbike gap in the KTM lineup. Now boasting Grand Prix-inspired design, a true race-derived chassis, and high-end electronics previously unseen in the small displacement Supersport segment, the new generation RC range charges out of pitlane with real-world, race-winning intentions.

The most immediately obvious update across the board is the Grand Prix-inspired styling, which sees almost every panel being redesigned, boasting race-inspired lines and two new colourways that clearly define the sporty character of these motorcycles.
This redesign has also been purposely done to increase the overall size of the RC range, not only to give it a striking visual presence but also to optimise aerodynamics due to higher top speeds, thanks in part to a computational fluid dynamics (CFD) design process.
This new design has also optimized wind and weather protection, with enhanced heat management by using a combination of inner and outer body panels to direct airflow away from the rider.
The rear bodywork has been reduced as much as possible for a more aggressive profile, but also to show off as much of the redesigned steel trellis subframe as possible.
As true sports bikes, special care has been taken in improving overall ergonomics. The knee area is now ergonomically developed to allow for easier, more fluid rider movement, being as narrow as possible with the largest possible contact area.
An all-new two-part cockpit and windscreen holder makes use of a cast aluminum upper area and a lower composite part that secures the headlight, while a larger fuel tank has been added for improved day-to-day riding, comfort, and fuel range.
The new bodywork is easily removable, with a reduced number of screws being used as well as a redesigned mounting system. This makes swapping out the street-legal bodywork for race-ready panels more practical. However, the most notable updates to the KTM RC range can be found underneath the new bodywork.
The 2022 KTM RC range was developed with a focus on weight saving, with extensive savings made throughout the chassis. An all-new wheel design accounts for a 3.4 kg unsprung weight saving over the previous generation, while the new ByBre braking system saves an impressive 960 grams. The frame too, has gone under the knife with a 1.5 kg saving.
The suspension has also undergone a major refresh, with adjustable open cartridge WP APEX upside-down front forks up front, which feature 30 clicks of compression adjustment on the left, and 30 clicks for rebound on the right.
The range topping KTM RC 390 is fitted with a WP APEX rear shock absorber which offers pre-load adjustment and five clicks rebound settings.
The KTM RC 125 features WP APEX open cartridge front fork with a completely new sportier factory setting, and a new WP APEX shock absorber with split piston functionality.
Every model in the KTM RC range is powered by a EURO5 state-of-the-art, liquid-cooled, single-cylinder four-stroke engine with twin overhead camshafts, four valves, and electronic fuel injection. For 2022, the KTM RC range delivers more torque compared to previous models thanks to a new airbox design. The KTM RC 390 has also received a new engine mapping for increased torque and overall rideability.
From an electronic standpoint, the new generation KTM RC range sets the benchmark for the small displacement Supersport segment, with the KTM RC 390 boasting a selection of rider aids usually only available on bigger motorcycles, namely SUPERMOTO ABS, Lean angle sensitive Cornering ABS and Cornering MTC, and the optional Quickshifter+.
KTM MY RIDE can now also be added to the KTM RC 125 and KTM RC 390, thanks to new TFT colour display that allows riders to access important information at a glance, with the added flexibility of being able to tailor the display to show what they want to see. The display also automatically adapts its brightness to ambient light.
As a package, the 2022 KTM RC lineup promises to bring more READY TO RACE to the realm of Supersport with real, race-bred ability and technology to match.
The new generation KTM RC range will be available in March 2022, prices TBC.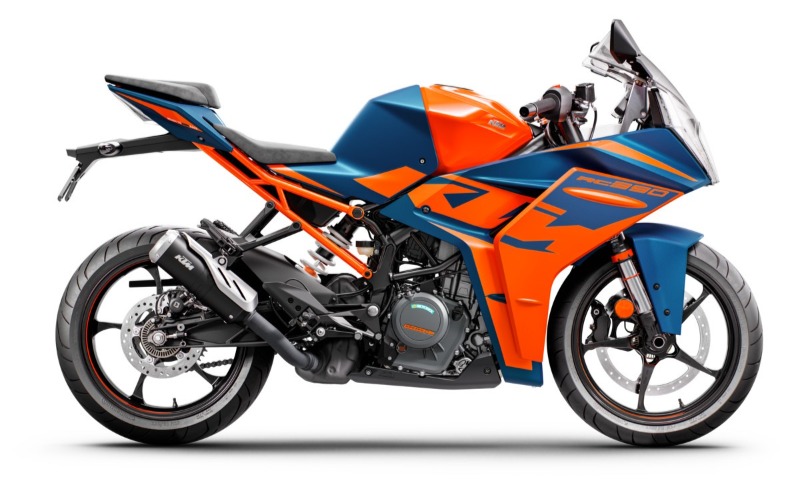 RC 390 – BLUE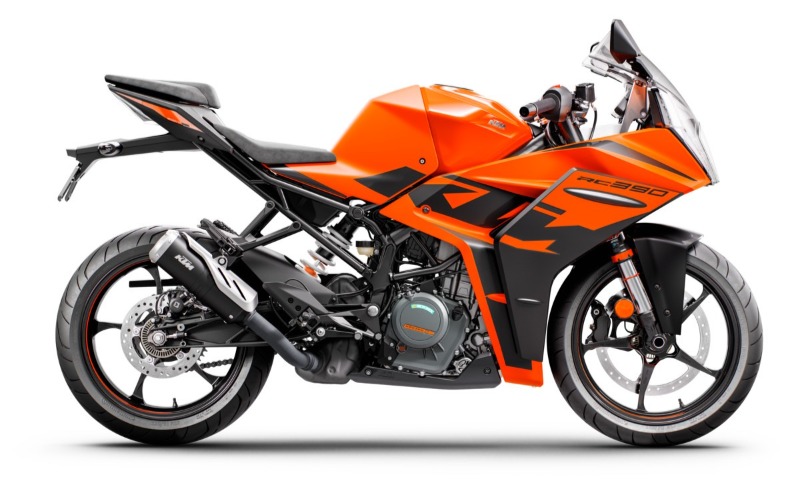 RC 390 – ORANGE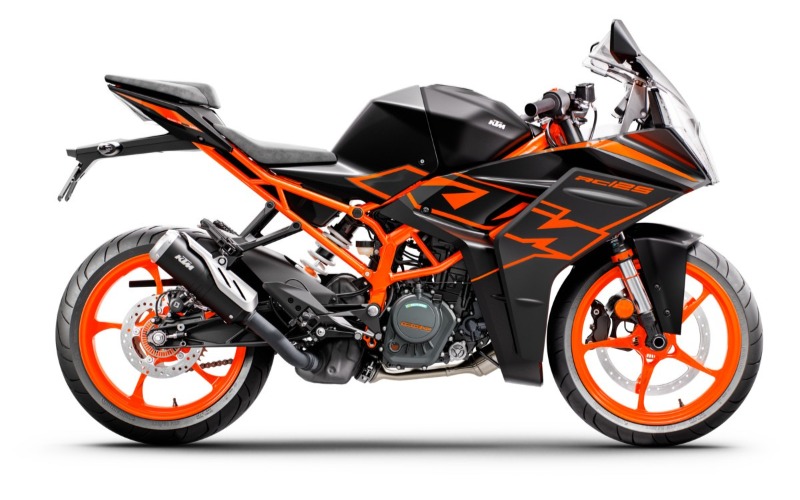 RC 125 – BLACK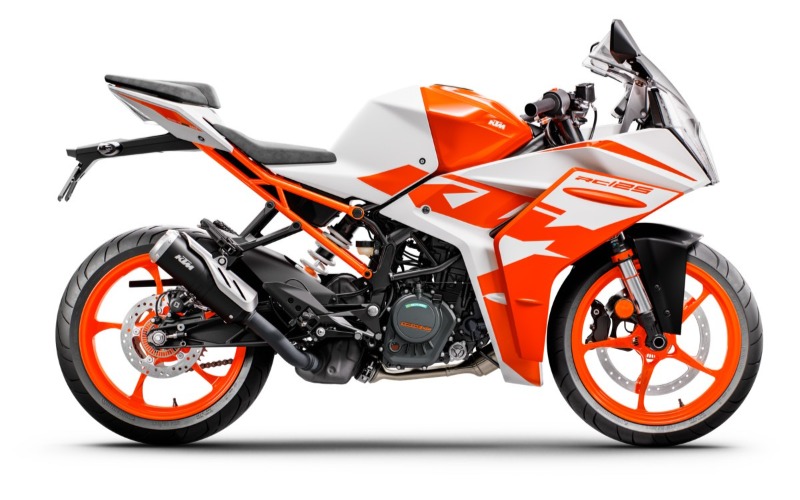 RC 125 – WHITE
MEET THE 2022 KTM 50 SX FACTORY EDITION
THE MOST READY TO RACE 50 CC BIKE ON THE STARTING GATE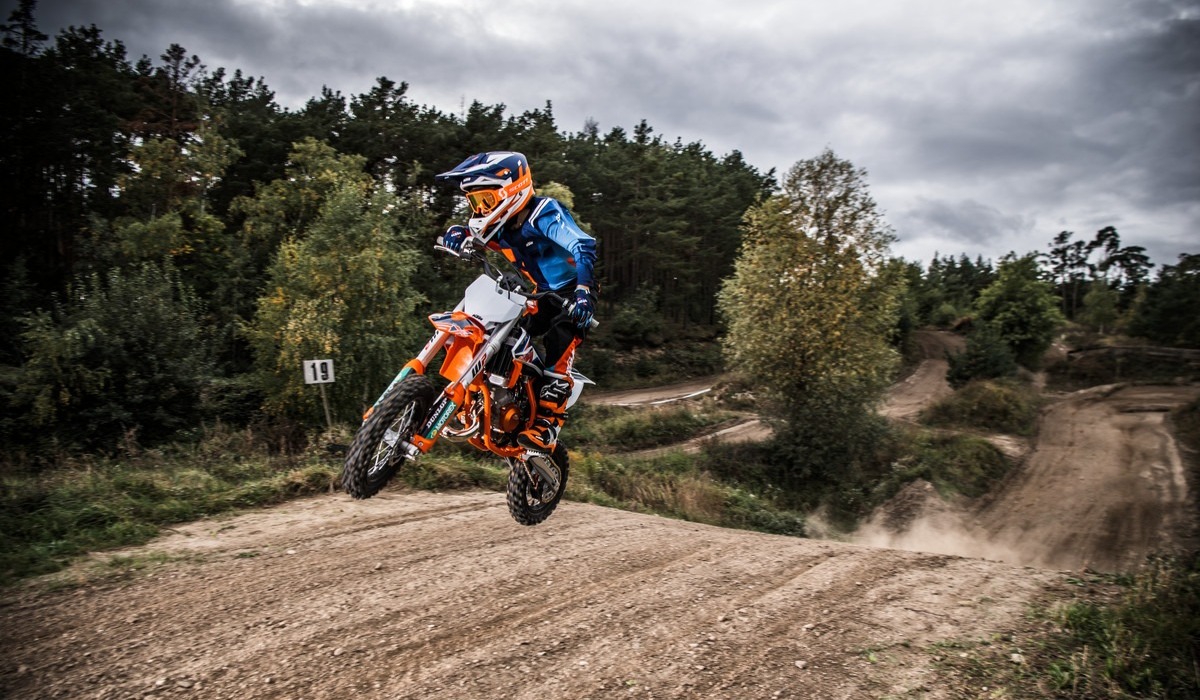 The KTM 50 SX FACTORY EDITION gives the perfect first taste of the performance, capabilities and the possibilities that run right through the whole KTM SX range. In its 2022 trim, the bike is based on the successful platform that was first introduced just a year ago. This is a bike formed by racers, manufactured by racers for racers.
This purebred race machine offers the same competitive advantage as found in the full-sized FACTORY EDITION bikes and is enhanced with a potent range of premium components. Advanced WP suspension, high-end brakes, an FMF exhaust system, CNC machined aluminum components, minimal design to shave weight and Dunlop Geomax MX53 tires are just some of the ways in which the 2022 KTM 50 SX FACTORY EDITION sets the bar extremely high.
The FACTORY EDITION status means that the equipment applied to the KTM 50 SX is derived from the lessons and testing gleaned from similar machinery at the peak levels of racing globally. Other additions that pull the KTM 50 SX FACTORY EDITION as close as possible to its works 'cousins' are the blue grippy race seat and a set of race-inspired graphics and colours.
KTM 50 SX FACTORY EDITION – HIGHLIGHTS
// Special FACTORY EDITION graphics
// FMF pipe // FMF silencer
// Blue grippier seat
// Smaller rear sprocket
// CNC clutch cover
// CNC ignition cover
// Reworked jetting
// Special clutch configuration
// Grey grips
// Chain guide with orange inserts
// Dunlop Geomax MX 53 tires
With KTM introducing the 2022 KTM 50 SX FACTORY EDITION during the 2021 Loretta Lynn's AMA Amateur National Championship, there could hardly be a more fitting venue to introduce this exclusive machine. As USA's largest amateur motocross event, the event is the perfect backdrop for such a race-focused bike.
Limited numbers of the 2022 KTM 50 SX FACTORY EDITION will arrive on KTM dealer floors from August 2021 onwards. For more information, please contact us.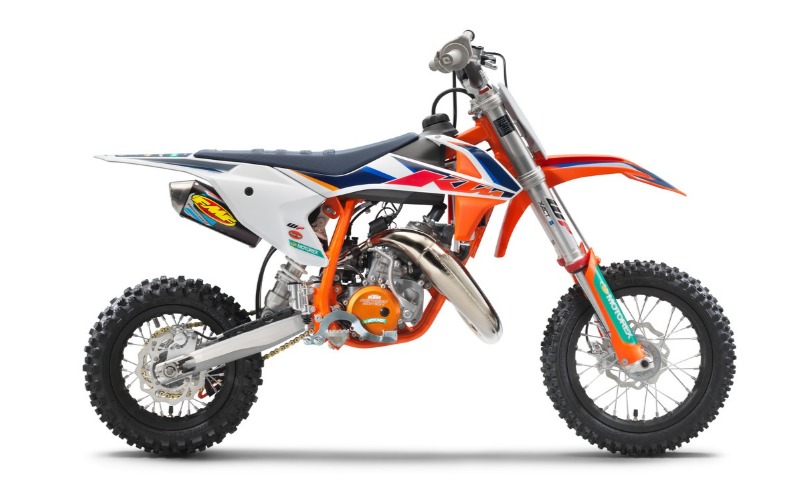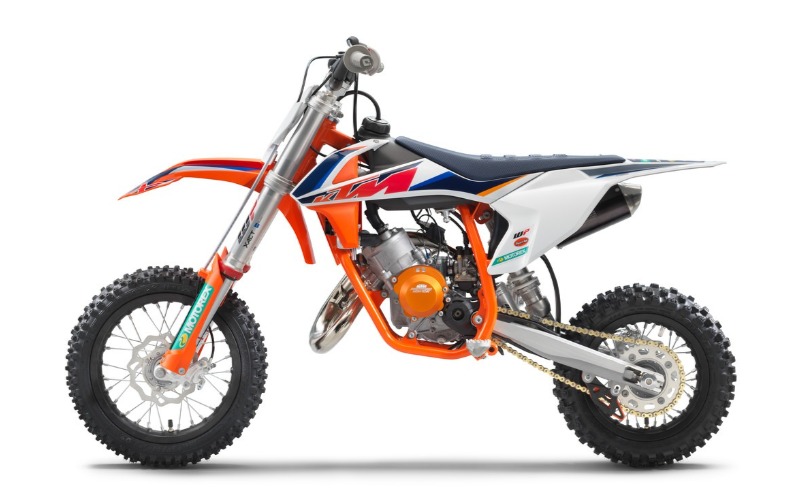 GASGAS EXPAND DIRT BIKE LINE-UP FOR 2022
THREE EXCITING NEW MOTOCROSS MODELS ADDED TO OUR AWESOME OFFROAD RANGE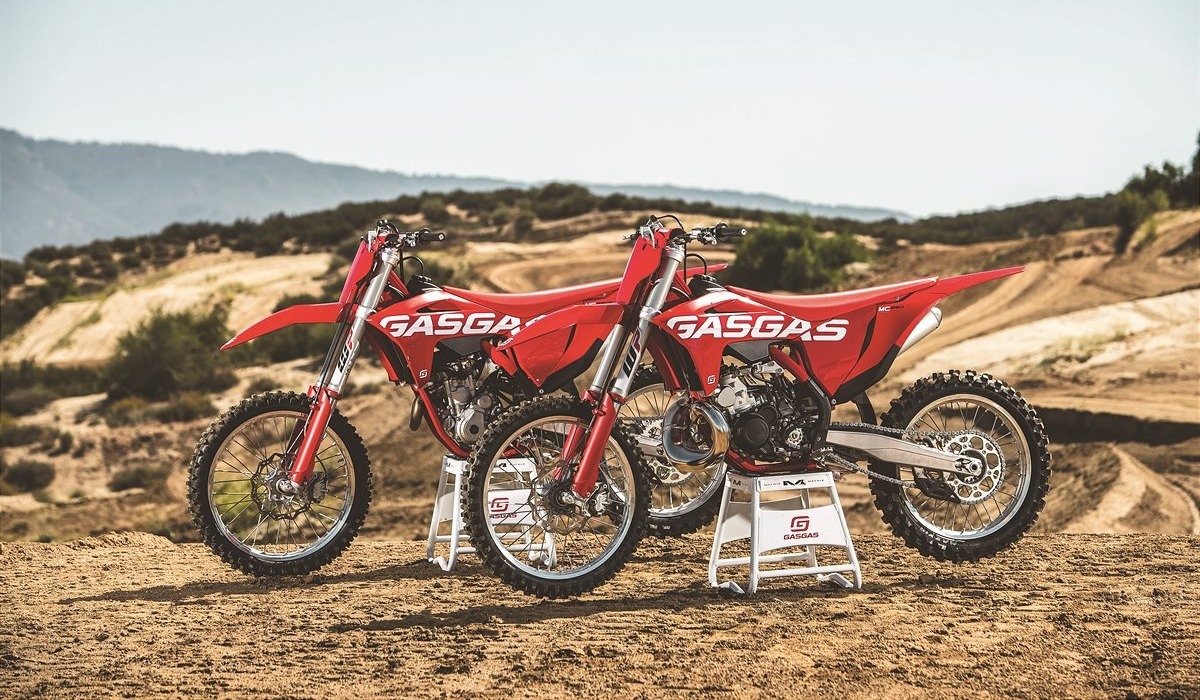 We've got new models for 2022, but our goal remains the same – to continue delivering performance offroad motorcycles for those who love to ride! We're super-proud of the bikes we launched just under a year ago, but we're going a little bigger for 2022, adding three new motocross machines to ensure we offer the most comprehensive dirt bike line-up there is! For kids, we've introduced a small wheel MC 85. For adults – the big kids – we've launched a new MC 250 2-stroke together with the MC 350F 4-stroke, strengthening our awesome range of dirt bikes. All new bikes will be available from October, all others are available now!
GASGAS unveil 13 performance motocross and enduro bikes for 2022
New motocross bikes bridge the gaps between models
Explore the full range now!
Giving the next generation of motocross stars a bike that bridges the gap between our MC 65 and MC 85, our new small wheel MC 85 is the perfect choice for mini racers working their way up the ranks. With a carefully designed chassis that accommodates its smaller wheels, the bike ensures uncompromised handling and performance, and is ready to shred with a simple prod of the kick starter.
We ticked all the boxes when it came to building what we believe is the ultimate 250cc 2-stroke motocross bike, our MC 250. With an engine that boasts tons of torque down low together with ample power up top, with WP XACT Suspension it soaks up bumps and jumps no matter how hard or fast a rider hits them. And let's not forget its mechanical simplicity and low running costs. Built for 2-stroke fans and unbelievably competitive in the hands of serious racers, everyone will enjoy an incredible experience on the MC 250.
Saving the best 'til last as some would say, our MC 350F is the third and final motocross bike we've added to our line-up. With strong, usable power and nimble handling, it's a bike designed for fun-filled weekends at the track with your buddies. The bike is super-lightweight and for those who dare to twist the throttle that little bit harder, it's fearlessly fast too!
New models aside, our 2022 dirt bike range is packed with seriously capable, seriously fun motocross and enduro models. With a total of nine amazing motocross bikes to choose from, when it comes to our enduro machines, we're sticking to the four models we know riders love and trust. Each delivering incredible performance and reliability, our enduro line-up includes all of the most popular displacements. Be it one of our 2-stroke or 4-stroke bikes, now is the time to get on a GASGAS and hit the trails.
To get the most from of our exciting line-up of offroad bikes, we also offer a full range of GASGAS Technical Accessories and Apparel. For those looking to protect, improve and customize their MC, or EC machines, our extensive catalogue of Technical Accessories includes just about everything needed, from wheels to exhaust systems, triple clamps to hand guards. Our collection of riding apparel delivers protection and comfort with style, and features clothing designed specifically for motocross and enduro with head-to-toe solutions for both kids and adults!
Almost all of our offroad range will be available now, while the MC 250, MC 350F and small wheel MC 85 will arrive shortly after in October.
KTM LIFTS THE COVERS
THE 2022 KTM 300 EXC TPI ERZBERGRODEO IS THE MOST READY TO RACE EXTREME ENDURO BIKE AVAILABLE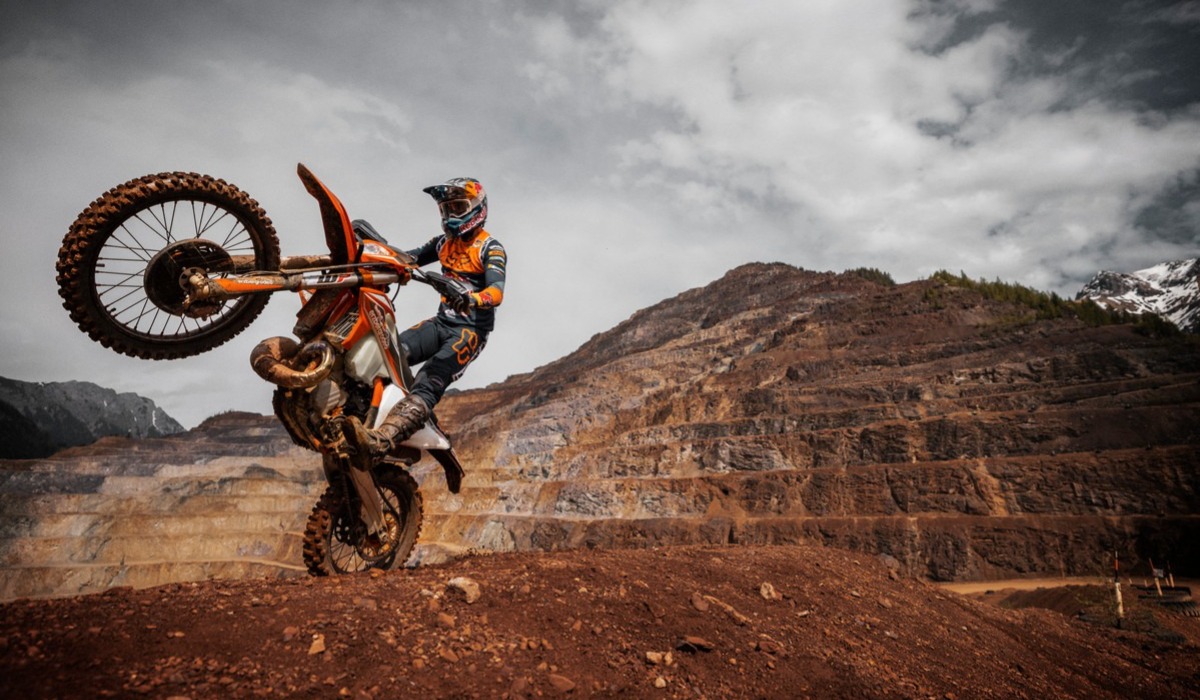 KTM's relationship with the world-known Red Bull Erzbergrodeo dates back a few decades already. This long and successful history dates to the event's inception in 1995, with KTM riders taking no less than 16 wins since then. To celebrate the wealth of race success already achieved and with a keen eye on future victories, KTM is proud to introduce the 2022 KTM 300 EXC TPI ERZBERGRODEO as a special tribute to the iconic event.

Using the 2022 edition of the wildly successful fuel-injected KTM 300 EXC TPI as a platform, the KTM 300 EXC TPI ERZBERGRODEO steps up the READY TO RACE-ability with several race-inspired upgrades. Taking feedback from elite extreme enduro riders into consideration, the KTM 300 EXC TPI ERZBERGRODEO is specially built for the toughest offroad terrain across the globe.
Featuring a long list of special protection parts, including closed hand guards, clutch slave cylinder protection, a robust skid plate, brake disc guards and radiator protection, the 2022 KTM 300 EXC TPI ERZBERGRODEO is developed to withstand the most extreme, jagged rock-hopping scenario.
The 2022 KTM 300 EXC TPI ERZBERGRODEO also comes with further additions such as factory wheels with anodized orange hubs, enduro-specific pull straps, radiator fan, mapping select switch, CNC machined triple clamps, a grippier Factory seat and a special frame coating in orange for added racing appeal.
2022 KTM 300 EXC TPI ERZBERGRODEO – RACE-FOCUSED FEATURES
// Special Red Bull Erzbergrodeo graphics
// Frame finishing coated in racing orange
// Factory wheels with anodized hubs
// METZELER 6 DAYS EXTREME soft tire set-up
// Closed, heavy-duty handguards
// Radiator fan & radiator protectors
// CNC-machined triple clamps
// Factory seat & lightweight skid plate
// Chain guide bracket protection
// SUPERSPROX STEALTH rear sprocket
// Clutch save cylinder protection & orange oil plug
// Front & rear pull straps
// Front brake disc guard
// Solid rear disk & disk guard
// Rear brake safety wire
// Map selector switch
Joachim Sauer – KTM Product Manager: "The KTM 300 EXC TPI ERZBERGRODEO is a bike 100% built for purpose – and that purpose is to tackle the most extreme of trails like those found at the notorious Red Bull Erzbergrodeo. Receiving all the updates of our 2022 KTM EXC model range, this special edition bike has features developed by Red Bull KTM Factory Racing riders to meet the extreme demands of every hard enduro rider. For 2022 it also comes with a unique set of Red Bull Erzbergrodeo graphics that make it stand out in any paddock. This is undeniably the most READY TO RACE extreme enduro motorcycle on the market – a bike that is fully ready to line up in the quarry and tackle the famous Iron Giant."

The 2022 KTM 300 EXC TPI ERZBERGRODEO will be available in limited supply from June 2021 onwards.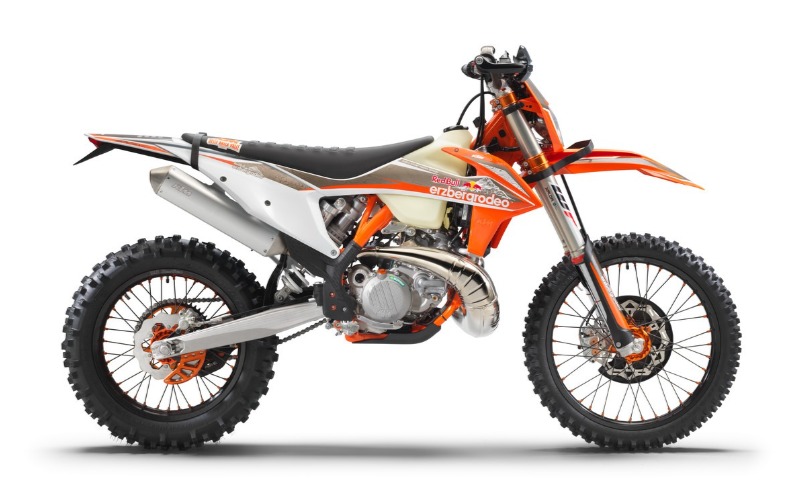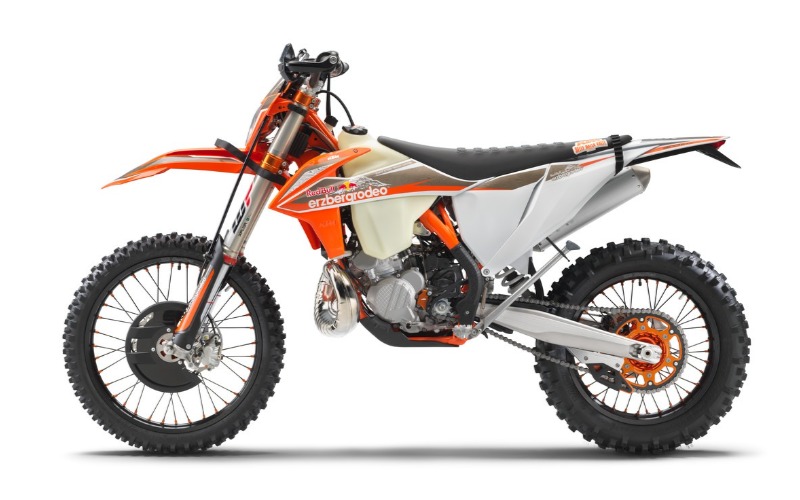 NEW 2022 ENDURO RANGE
THE 2022 EXC RANGE IS READY TO MASTER THE EXTREMES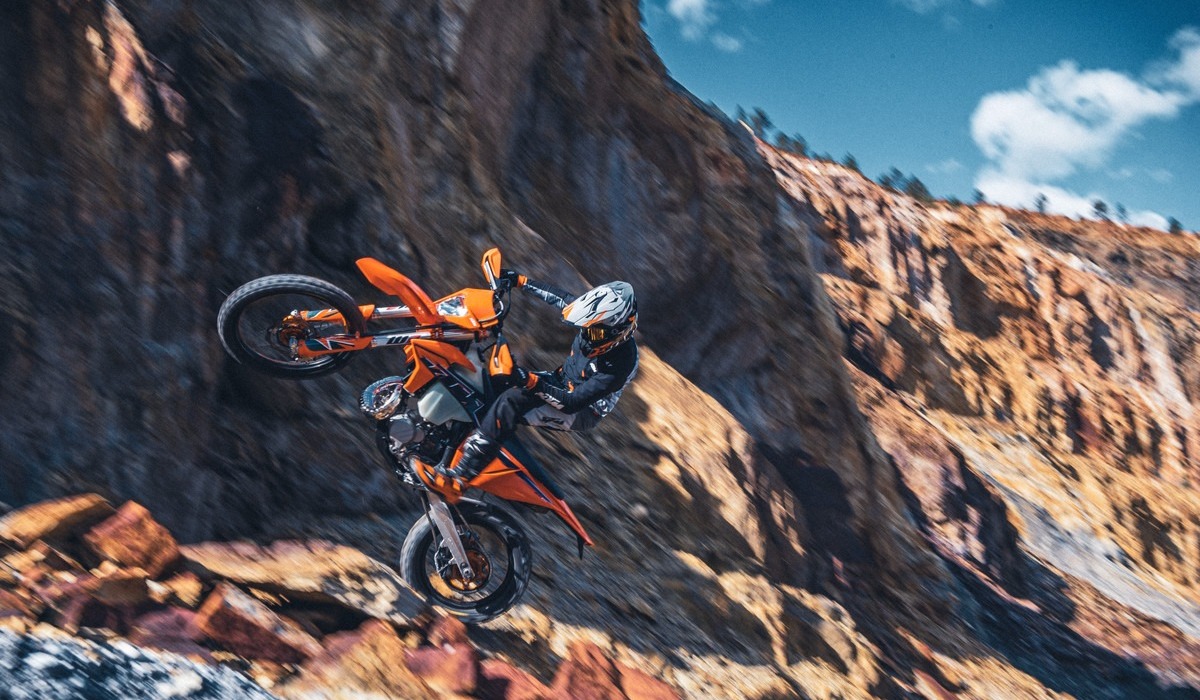 With the 2022 EXC line-up, KTM reconfirms its status as the provider of the most comprehensive and exciting set of offroad bikes on the market. Whether riders are searching for a peerless motorcycle to ace any terrain or equipment to find those extra race seconds, there is no reason to think anything but 'orange'. The key to this bar-setting versatility is the high standards and quality that is injected through the updated for 2022 KTM EXC range.
Across the new line-up there are two key upgrades to boost performance. All new models receive updated WP suspension settings aimed at offering a firmer and even more planted feel while riding across the gnarliest terrain. The second key upgrade is the addition of new MAXXIS MaxxEnduro tires. After extensive testing, the new tire combo showed improved durability and puncture-resistance and will provide even comfort for extended hours across a myriad of surfaces.
Innovative Transfer Port Injection (TPI) engineering means KTM EXC 2-Strokes perfectly meet the increased demands of the modern offroad rider. The three motor capacities guarantee the best choice of horsepower and torque capabilities to suit the rider's preferences. With the KTM 300 EXC TPI being the flagship model to satisfy any Hard Enduro ambition, it is the 2022 KTM 250 EXC TPI that has come under the R&D microscope featuring revised 13:52 gearing. This modification will help the quarter-litre in terms of traction and front end lift on the most technical sections.
The 4-Stroke KTM EXC-F models talk the torque as dependable, reliable, accessible and thrilling fuel-injected machinery. For several years, the symbiosis of 250 handling and 450 power characteristics has positioned the KTM 350 EXC-F as the definitive offroader and the crown remains steadfastly in place. With the now firmer, sportier settings on their WP fork and rear shock, all new KTM EXC-F models come with improved high-speed performance.
KTM's READY TO RACE mantra is a vital development pathway and the endeavors of racers like Manuel Lettenbichler and Josep Garcia help sculpt the KTM EXC models that make it into the hands of riders around the world. For 2022, KTM has visually emphasised the connection with competition even further through the incorporation of blue colors in the bodywork and seat. The graphics and race plastics ensure that any KTM EXC will not be missed right at the front of the pack.
Inherently involved with top-level offroad competition for decades, KTM reaffirms its support to the massively popular FIM International Six Days Enduro with the release of the full line-up of revamped 2022 KTM EXC SIX DAYS models. For 2022, KTM designers have gone bold with the introduction of a striking new color scheme that perfectly mixes elements of a modern world map with a head-turning retro style. Featuring a long list of race-inspired parts as standard, the 2022 KTM EXC SIX DAYS models are ready to take on the grueling week-long event, straight out the crate.
2022 KTM EXC – KEY RANGE UPGRADES
// Revised WP suspension settings for a firmer & more responsive feel
// Improved oil circulation in the suspension for more consistent feedback
// New MAXXIS MaxxEnduro tires for unmatched grip in all terrains
// New 13:52 gearing giving the KTM 250 EXC TPI added bottom end punch
// Head-turning 2022 colors inspired by the Factory bikes
// Bold design & retro colors for the revamped KTM EXC SIX DAYS line-up
Joachim Sauer – KTM Product Manager: "It gives us great pride to know that our KTM EXC models can once again supply any offroad rider with the excitement and the performance they need. In their updated trims, these bikes are technical masterpieces and there is something to suit every rider across the globe. For 2022, with the new WP suspension settings we are offering the bikes a more firm and even more consistent feel. Matched with the new MAXXIS tires, these are two key upgrades that elevate the overall offroad performance. Our design team have also stepped-up with their work for this year and the bikes look exactly like what they are supposed to be: winners in all conditions."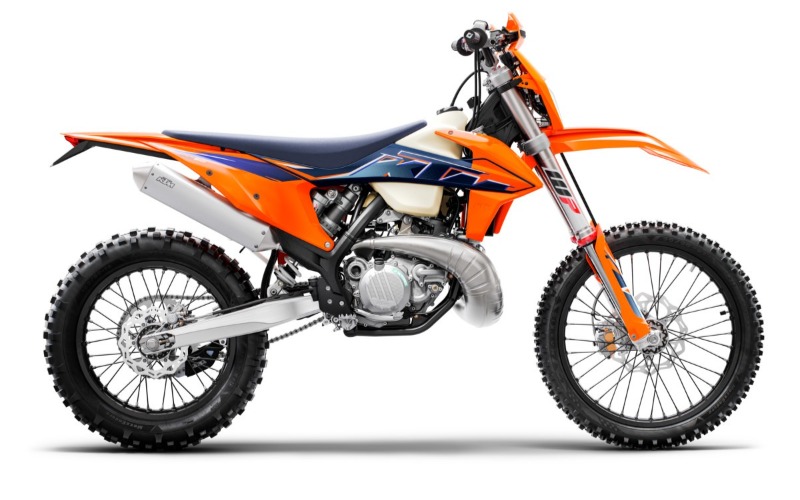 2022 EXC RANGE
Available in the following engine capacities
2-Stroke: 150, 250, 300
4-Stroke: 250, 350, 450, 500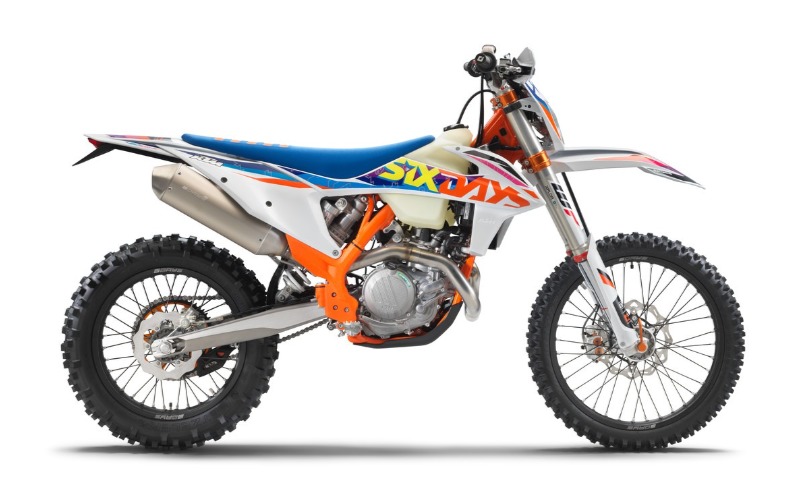 2022 EXC SIX DAYS RANGE
Available in the following engine capacities
2-Stroke 250, 300
4-Stroke: 250, 350, 450, 500
NEW 1290 SUPER DUKE RR
LIMITED EDITION BEAST ROARS ONTO THE SCENE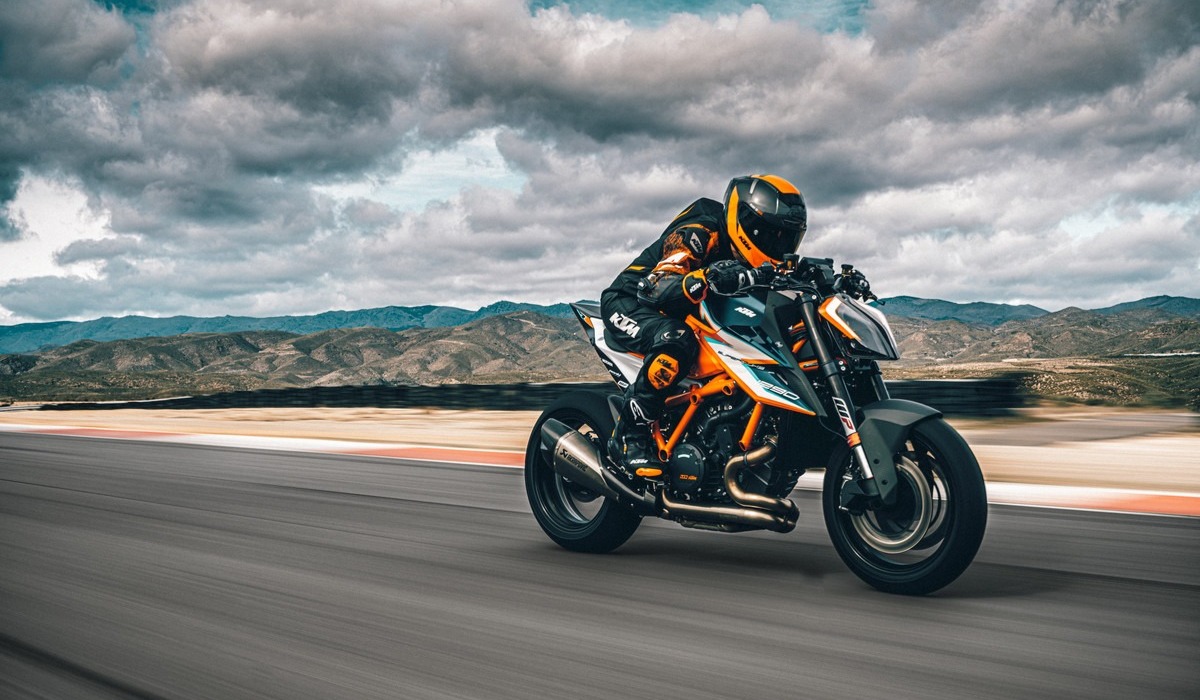 KTM continues to surprise, taking the ever-popular KTM 1290 SUPER DUKE R platform and forging an even angrier BEAST. Being the first machine menacing enough to wear an 'RR' badge, it sits proudly at the top of KTM's street range as a limited-edition flagship motorcycle, developed around one key statement: Pure Performance.
Based on the latest KTM 1290 SUPER DUKE R prototype, the limited production RR is a demonstration of what happens when your R&D department is allowed free reign. It's a true definition of READY TO RACE, with added exclusivity, exotic componentry, and premium workmanship.
The figures tell the story – 1,301 cc, 180 hp, 180 kg, and 140 Nm, translating into a power-to-weight ratio of 1:1, with enough torque to tear open the bitumen. Make no mistake, this BEAST is all about track-ripping performance. It is a no-compromise Hyper Naked motorcycle that has been conjured up from the darkest depths of the performance lab to decimate lap records.
Weighing in at a whole 9 kg lighter, the RR is more agile, stiffer, and offers better high-speed stability than the standard KTM 1290 SUPER DUKE R. The wheels too have gone under the knife, shedding a massive 1.5 kilograms of unsprung weight. These are wrapped in ultra-sticky Michelin Power Cup2 tires, dramatically upping the track readiness of the KTM 1290 SUPER DUKE RR.
However, the biggest area of influence comes in the form of WP's finest components. Up front, the KTM 1290 SUPER DUKE RR makes use of fully adjustable WP APEX PRO 7548 Close Cartridge forks, together with an adjustable WP APEX PRO 7117 steering damper. At the rear, an APEX PRO 7746 Shock takes charge, which has been custom-made to the specification of the KTM 1290 SUPER DUKE RR.
Carbon fibre has been used extensively in the KTM 1290 SUPER DUKE RR's construction, with the subframe also receiving the lightweight carbon treatment. This has allowed designers to reimagine the tail of the BEAST, creating a unique single-seat unit, with redesigned LED taillights incorporated into new LED turn signals. These also include KTM's adaptive brake light as standard.
All of this, not to mention the biggest Euro5-compliant V-Twin engine currently available in a Hyper Naked motorcycle, makes the KTM 1290 SUPER DUKE RR the ultimate backstreet weapon or track day tormentor.
It gets its power down to the ground thanks to a new quick-turn throttle twist grip, with a 65-degree opening angle – a 7-degree reduction over the standard KTM 1290 SUPER DUKE R's 72-degree grip. This was developed to deliver improved throttle response, but also to reduce the rider's wrist angle and elbow drop at full opening.
As with all extreme track terrors, this BEAST would not be complete without a lightweight Akrapovic Slip On exhaust system. Made from titanium with a carbon fibre end cap, it provides the 'bark' to the BEAST's bite. For the absolute power-hungry, the Akrapovic Evolution Line full system is available as an optional extra.
Notable features on the KTM 1290 SUPER DUKE RR include:
// The most powerful V-Twin engine to ever power a naked motorcycle
// 180 hp and 180 kg give the KTM 1290 SUPER DUKE RR a 1:1 power/weight ratio
// New WP APEX PRO suspension and Michelin Power Cup2 tires
// New carbon fiber bodywork
// Lightweight lithium-ion battery, saving 2.5 kg
// Ultra-lightweight forged wheels, saving 1.5 kg of unsprung weight
// Carbon fiber subframe with a redesigned single seat
// Prototype-inspired CTG
// Exclusive KTM PowerParts package
// Limited to only 500 units
The KTM 1290 SUPER DUKE RR isn't only impressive when it comes to hardware. Under its carbon-scaled skin hides the most complete track-orientated electronics package ever seen on a KTM – and all as standard.
Most notable of all in this package are the advanced Track and all-new Performance modes, which allow riders near-unlimited adjustability options for rear-wheel slip, throttle response, Launch Control, and Motor Slip Regulation.
While the KTM 1290 SUPER DUKE RR already boasts a full range of never before seen components and bodywork, a full range of KTM PowerParts has also been developed for those riders looking to boost its already frightening performance and track-ready viciousness.
And let's not forget, riders of the ultimate Naked motorcycle need to not only perform, but also look the part. For that reason, a dedicated range of KTM PowerWear has been developed to give KTM 1290 SUPER DUKE RR riders the utmost confidence when at the absolute ragged edge.
THE GATE DROPS
NEW 2022 MOTOCROSS RANGE LAUNCHED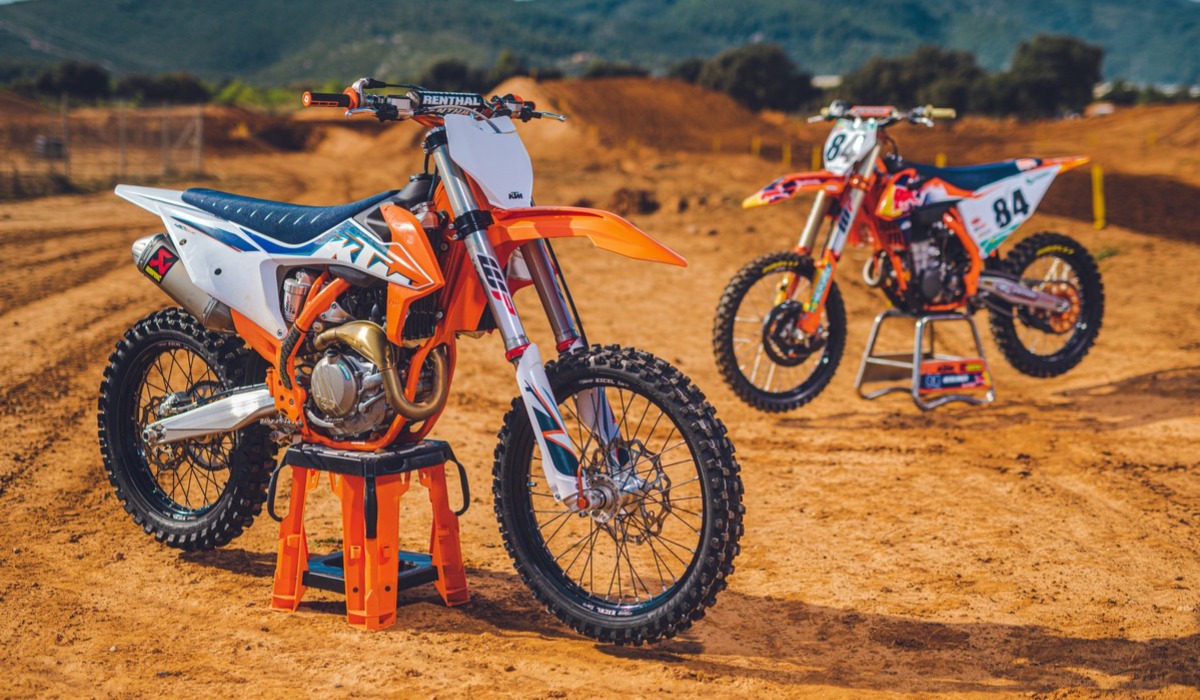 After decades of seamless flow of information from the race paddock to KTM's production line, the complete 2022 KTM SX range is closer than ever to the bikes that are winning titles. Engineered on the racetrack, and perfectly meeting KTM's superior standards for performance in their updated 2022 livery, the new models are the absolute reference for Motocross and Supercross competition worldwide.
Built for those who know the importance of a solid technical base, the KTM SX-F model range is the choice of winners. The 2022 4-Stroke range includes three models that take advantage of KTM's considerable gains in the segment featuring the latest WP XACT suspension technology and advanced tech solutions including Traction Control, Launch Control, variable engine mapping and reliable starters.
The purest definition of advanced motorcycle technology, the 2022 KTM 450 SX-F is an extremely compact package that produces an unrivalled 63 hp in the most effective way possible. The KTM 250 SX-F features unmatched outright speed in a class that pushes the boundaries of performance and the KTM 350 SX-F ideally mixes 250 agility with even more engine grunt.
Building upon a legacy of class-leading performance for aspiring and experienced racers alike, the new 2-Stroke range includes three distinct models. A benchmark in the division, the KTM 125 SX is the development of the bike that occupied seven of the 12 top spots in the 2020 EMX125 European Championship. In its updated 2022 trim, the KTM 150 SX can battle with the potent 250 4-Strokes, while the KTM 250 SX is a 2-Stroke powerhouse with the same light feeling.
All full-size 2022 KTM SX models introduce a frame finishing coated in racing orange to further reinforce the proximity to the championship winning machines of the Red Bull KTM Factory Racing stars. The updated frame aligns perfectly with the new blue seat cover and the fresh colors in the graphics to emphasize visually the close link to KTM's Factory machinery.
Complementing KTM's 2022 SX range is a series of Sportminicycles that share the exact same race-driven development approach as KTM's full-size Motocross bikes. Junior riders that climb on any of the KTM 50 SX, KTM 65 SX and KTM 85 SX models can do so knowing that they are experiencing class-leading performance, state-of-the-art WP suspension, high-end brakes and minimal weight. For tech-savvy riders, the wheels can start rolling with the 2022 KTM SX-E 5, the latest incarnation of a high-end electric mini-crosser that can grow together with the young rider on it.
Joachim Sauer – KTM Product Manager Offroad: "The new SX range is all about the proximity to our race machinery, and the bikes that are doing the business on racetracks around the continents. We've been refining these packages for several years and we feel the connection, both aesthetically but also in terms of performance, is now closer than ever. To prove our point, we gave production bikes to MXGP and MX2 World Champions and I'm glad to confirm they were surprised and impressed with their performance. It was fitting to give the 2022 models an even 'racier' look with the blue and orange design and to remind riders and fans that there isn't a more READY TO RACE motocross range in any paddock anywhere."
Trying out the 2022 KTM 450 SX-F and KTM 125 SX production models, Red Bull KTM Factory Racing stars and distinguished FIM Motocross World Champions Jeffrey Herlings and Tom Vialle logged impressively competitive lap-times. They both share their unbiased feedback in this video.
GASGAS2022 TRIAL BIKES ARE HERE
TXT RACING AND TXT GPMODELS LAUNCHED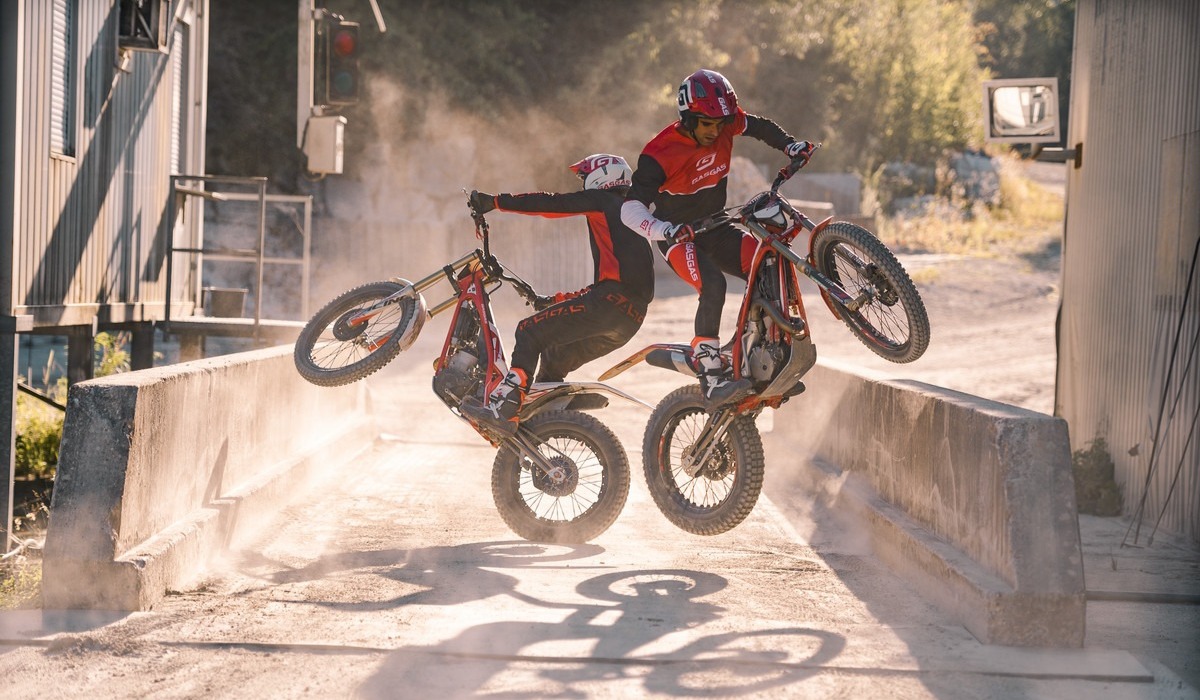 Renowned for their minimal weight, usability and high-performance, we're pleased to confirm the worldwide availability of our latest TXT RACING and TXT GP trial models. Continuing to deliver class-leading chassis performance and powerful, compact 2-stroke engines, for 2022 all eight of our trial bikes have been further refined to become Euro 5 compliant. Cleaner running and every bit as much fun to ride, all bikes continue to deliver smooth, controllable power across the entire rpm range… just the way riders like!
GASGAS TXT GP and TXT RACING models available now at dealers worldwide
All engines deliver smooth, controllable power while Euro 5 compliant
High-performance technical platforms set the standard for all GASGAS trial bikes
Assembled with passion and precision at our production facility in Girona, Spain, the 2022 TXT RACING and TXT GP trial ranges continue to set the standard for trial bike performance across the globe.
The TXT RACING range maintains its four classic capacities – 300cc, 280cc, 250cc, and 125cc. All models are powered by our super compact, high-performance 2-stroke engines, designed to deliver strong, torquey power that's perfect for scaling super-technical climbs.
Unrivalled handling is guaranteed on all of our trial bikes thanks to the smooth and progressive action of the class-leading suspension, working together with the lightweight steel frame to ensure precise rider feedback and complete control. With exceptional build quality, as well as class-leading innovations and pure, competitive styling and a compact, minimalist aesthetic, our TXT RACING trial bikes are incredibly versatile and offer unlimited capabilities.
Manufactured using the same proven platform and engine sizes as the TXT RACING range, our TXT GP bikes are competition-ready machines, refined and developed for serious competitors. With class-leading suspension, a carbon fiber airbox and premium components throughout, the TXT GP models are high-spec, high-performance bikes that ensure the most technical terrain can be mastered with ease. For 2022, a vibrant, GASGAS Factory Racing inspired look keeps the TXT GP range at the sharp end of the field.
Look on our new model page for more information.
GASGAS TRIAL DEAL
GET ON THE GAS AND SAVE £1,000 ON ANY NEW GASGAS TRIAL BIKE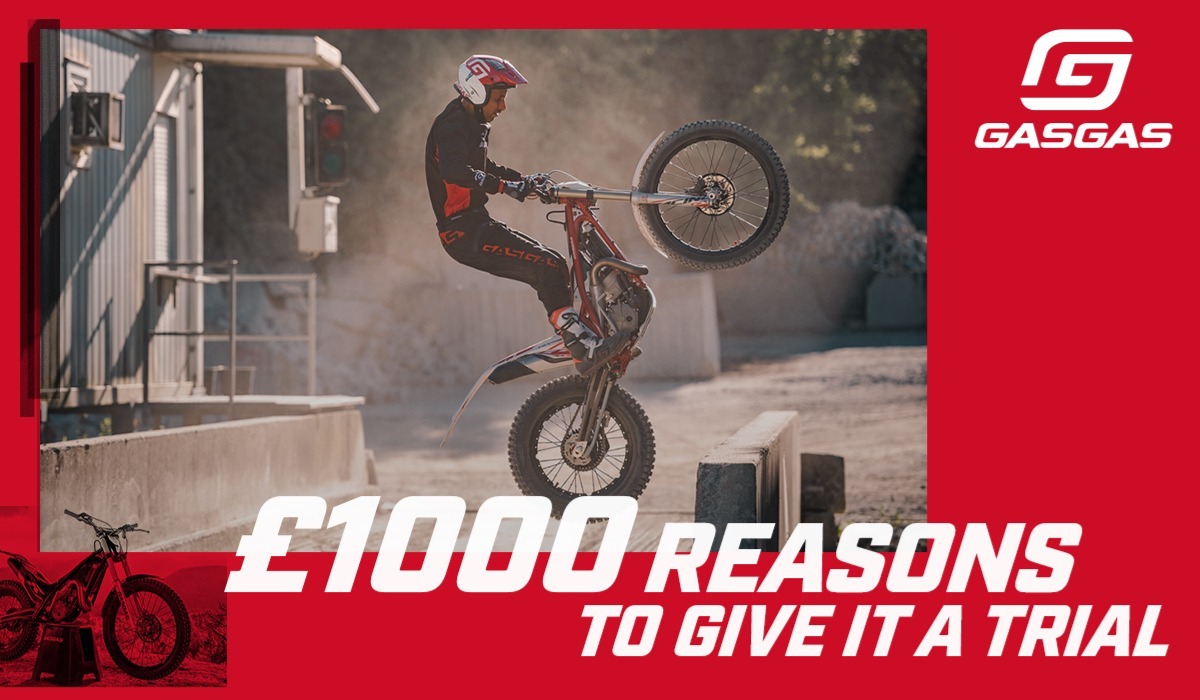 2021 is about to get way more interesting as GASGAS Dealers in the UK are offering a massive £1,000 off any 2020 or 2021 trials machine*.
Super-fun and incredibly easy to ride, our TXT RACING models are perfect for playful hobby riders – no matter their experience. The GP-range turns things up a notch, they're ideal for those a little more serious about their riding and their desire to compete to the best of their ability. Both ranges are ready, willing and able for riders to Get On The Gas and take 2021 head on!
The following models are included:
TXT RACING 125 – now £5,299 – lightweight and friendly character; ideal to develop skills
TXT RACING 250 – now £5,499 – perfect balance between torque and handling; all day fun
TXT RACING 280 – now £5,599 – power, weight and maneuverability are all on your side
TXT RACING 300 – now £5,699 – a package that will ensure riders can push new limits
TXT GP 125 – now £5,799 – a real confidence booster, great for tackling new challenges
TXT GP 250 – now £5,999 – able to tackle the toughest terrain – super strong and versatile
TXT GP 280 – now £6,099 – high quality clutch, brakes and suspension; fun meets functional
TXT GP 300 – now £6,199 – built to scale the hardest climbs and toughest tasks
Claiming a discounted GASGAS trial bike couldn't be easier! Simply contact to arrange Covid-19 secure pick-up or contact free delivery of any MY21 or MY20 TXT RACING or GP trial bike.
* Limited time offer. Only at participating authorized GASGAS dealers. Save £1,000 on the purchase price of all new 2020 or 2021 GASGAS TXT RACING or TXT GP models. Only while stocks last. Please contact your local dealer for more information.
NEW ELECTRIC BALANCE BIKES LAUNCHED
GET THOSE FIRST WHEELS ROLLING WITH THE NEW KTM FACTORY REPLICA STACYC ELECTRIC BALANCE BIKES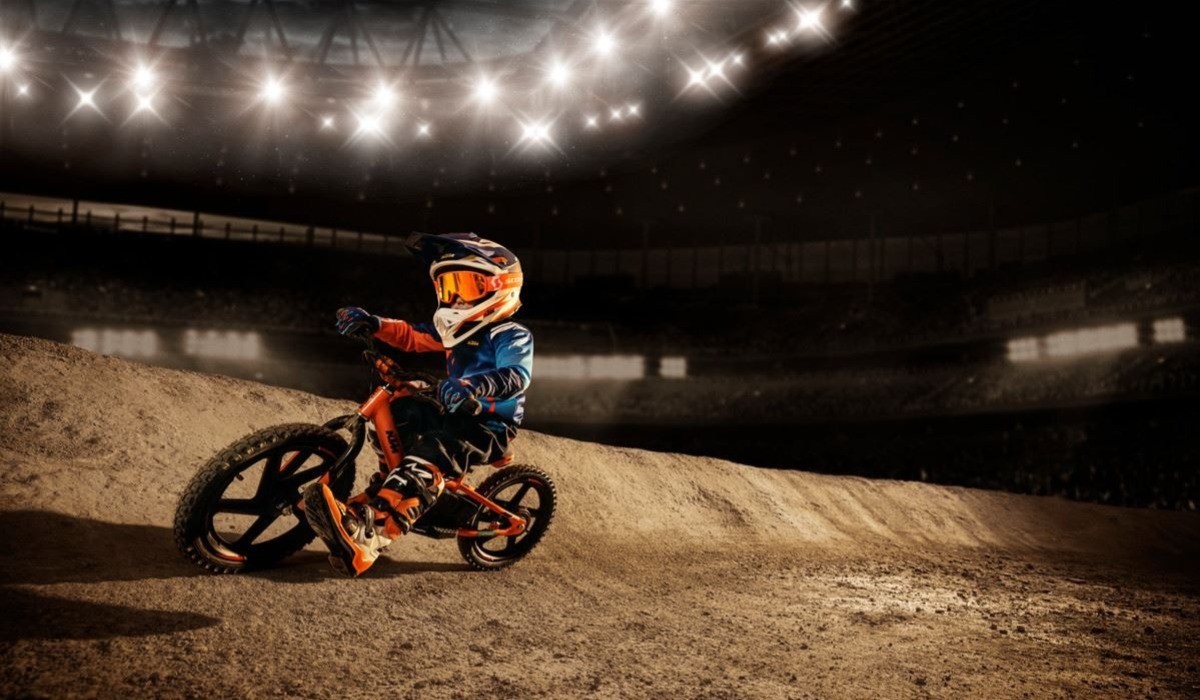 The practicality and the versatility of electric power provides the perfect entry-level platform for the smallest of potential bikers. Kids can revel in the excitement of power-assisted speed and the raw instincts of motorcycling thanks to the KTM FACTORY REPLICA STACYC 12eDRIVE and 16eDRIVE electric balance bikes.
Any future rider can discover the basics of bars, wheels, torque and balance. They can emulate their Red Bull KTM Factory Racing heroes before developing to rip a track with the KTM SX-E 5 – an innovative electric motocrosser that can 'grow' with a child.
The KTM FACTORY REPLICA STACYC 12eDRIVE is the ideal starter for youngsters, typically between 3 – 5 years of age. Featuring 12" wheels with pneumatic tires and a low 33 cm seat height, it allows riders to learn to push or coast with confidence before graduating to the 3-level powered mode. It weighs less than 8 kg, boasts an aluminum frame and BMX style forks.
The KTM FACTORY REPLICA STACYC 16eDRIVE is the clear choice for slightly taller riders or those with more 'miles', perhaps for an age range of 4 – 8 years or a 45 – 61 inseam measurement. The bike has a high-output motor that is slightly more powerful than its smaller brother. It is fitted with larger 16" wheels and provides an increased 43 cm seat height.
Both models offer quick charging and roughly 30 – 60 minutes of run-time for an exceptional amount of fun, along with hours of hand-eye coordination and outdoor exercise. Kids can also appreciate the freedom and empowerment of a throttle. Light, portable, robust, intuitive and 'race-styled', both the KTM FACTORY REPLICA STACYC 12eDRIVE and the KTM FACTORY REPLICA STACYC 16eDRIVE are essential appetizers ahead of the wide possibilities and competitive potential offered by the KTM SX-E 5.
KTM FACTORY REPLICA STACYC – MODEL HIGHLIGHTS
Sturdy, lightweight aluminum frame > easy for children to pick up and handle
Three progressive power modes > first experience of powered speed
Safe, thermally protected 20V battery > 30-60 mins run time and 45-60 mins charging time
33 cm and 43 cm seat heights > age ranges from 3 to 8
Steel, BMX-style forks, BMX-styled chain and freewheel
Multi-functional throttle with ride mode display and battery level
Race Replica aesthetic with tapered footrests and ergonomics
Joachim Sauer – KTM Product Manager Offroad: "The diversity of the whole KTM Offroad range is something we are very proud of and now with the KTM FACTORY REPLICA STACYC DRIVEs we have an ideal first platform. It's not only a cool and enjoyable product but one that carries pure strands of KTM's READY TO RACE DNA. Importantly, the two models are also further superb examples of how we can use e-mobility effectively. Future generations or riders can make their first revs into biking thanks to the KTM FACTORY REPLICA STACYC DRIVEs."
KTM FACTORY REPLICA STACYC 12eDRIVE and 16eDRIVE electric balance bikes are available from February, 2021 onwards.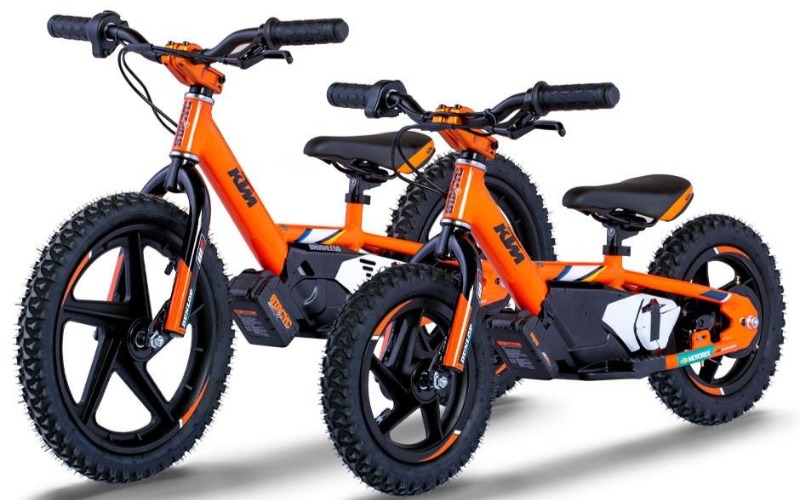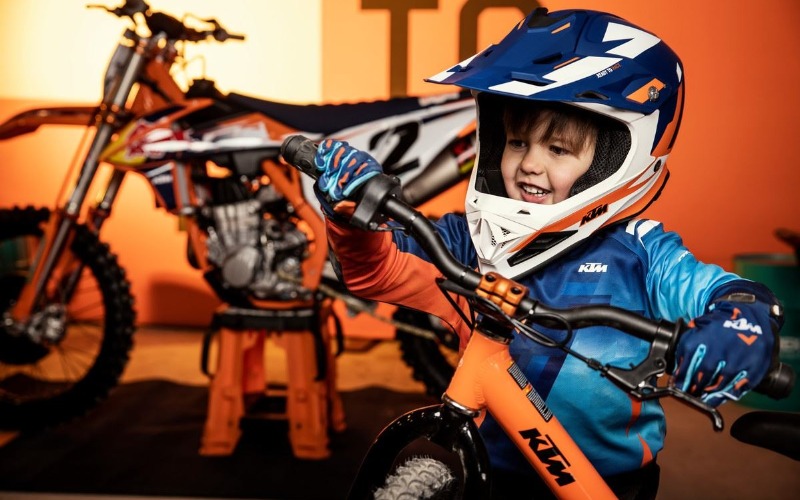 OUT NOW: THE NEW KTM 1290 SUPER ADVENTURE S
LAUNCHED WITH A NEW ERA OF ENGINEERING MASTERY AND PERFORMANCE-FOCUSED TECHNOLOGY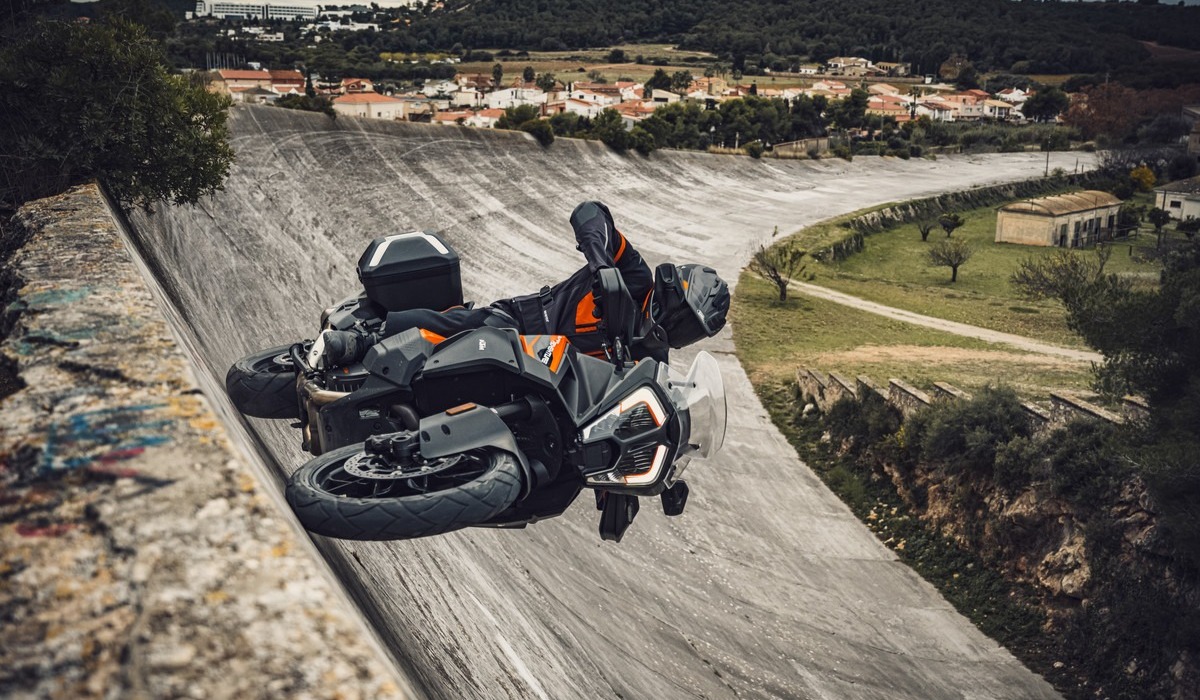 Invigorating the Adventure motorcycle segment with the release of its over-1000cc ADVENTURE models for the past eight years, KTM has taken full advantage of the development feedback to introduce a new era of rider-focused design and ground-breaking technology with the 2021 KTM 1290 SUPER ADVENTURE S.
Introducing a third generation of over-1000cc KTM ADVENTURE models, the KTM 1290 SUPER ADVENTURE S is the sportiest and most technologically advanced Adventure bike to ever roll its wheels off the production line in Mattighofen, Austria. Forged to provide the benefits of a versatile sports-tourer with diligence paid to ergonomics and comfort over any terrain, in brief it's the ultimate high-performance Adventure bike.
Redesigned ergonomics
Focusing on keener handling, the new KTM 1290 SUPER ADVENTURE S introduces a chassis overhaul that further enhances weight distribution and riding agility. A sharper cornering sensation is achieved by moving the steering head back by 15 mm and re-locating the front section of the engine. Additionally, the longer open-lattice swingarm contributes to a more stable feeling under acceleration. The subframe has been crafted to provide a lower seat height without sacrificing durability or practicality.
Surrounding the rider is a new 23-litre, keyless-cap fuel tank and a set of bodywork that augment the bike's agile feeling. Every centimetre of the paneling has been analysed in order not to impede the riding sensation. Providing additional comfort for the long rides, the new seat is two-tiered and adjustable by 20 mm. Also customisable are the handlebar levers, the all-new TFT and the windshield that has been developed through wind tunnel testing and can be moved by 55 mm. Overall, the KTM 1290 SUPER ADVENTURE S excels for its lower centralisation of masses and refined weight balance. It begs to be ridden hard or caressed to speed over long distances.
Technology to boost performance
Regulating the ride is the new generation of electronic aids with a less intrusive level of traction control in RAIN, STREET, SPORT, OFFROAD and an updated (optional) RALLY mode. To take you to the best riding terrain with less fuss, the KTM 1290 SUPER ADVENTURE S introduces an innovative Adaptive Cruise Control system as standard for 2021. Developed in collaboration with Bosch, the radar-based system automatically adjusts the safe distance to traffic ahead according to five stages that can be set with the re-designed handlebar switches.
The riding experience is further boosted with the brand new 7" TFT display that is hooked to a new Connectivity Unit for seamless smartphone pairing. The larger dashboard view has quicker and more practical menu systems as well as clear aesthetic infographics to clearly indicate various sections of the bike. The dash sits on top of a redesigned storage compartment with a USB charging socket. To communicate with the new display, the KTM 1290 SUPER ADVENTURE S comes with all-new switches on both sides of the handlebar, which offer a new and more seamless user experience. A new set of quick select and favorites buttons will allow for set-up changes on the fly and while the rider stays focused on the roads ahead.
Advanced componentry
The heart of the KTM 1290 SUPER ADVENTURE S is the revised Euro5 compliant V-twin. The eye-widening 160 hp and 138 Nm come in a lighter form (-1.6 kg) thanks to thinner engine cases and a new oil circuit. The engine breathes through an upgraded two-headed exhaust and shifts with a revised PANKL gear mechanism that brings big improvements in the optional Quickshifter+.
New pistons have further raised reliability and the whole unit retains better cooling thanks to a new water/oil system. The two new radiators work with the redesigned bodywork to channel warm air away from the rider's legs. 15,000 km service intervals and low fuel consumption round-off the re-energised powerplant.
Furthermore, the lean angle dependent Motorcycle Traction Control has two different controllers, one for wheel slip and another for pitch angle, with their own data and strategies. The Cornering ABS and Offroad ABS systems are products of the new Bosch Motorcycle Stability Control system, while Motor Slip Regulation is optional.
The KTM 1290 SUPER ADVENTURE S will hurtle along bumpy trails courtesy of a new generation of WP APEX Semi-Active Technology, suspension. The SAT boasts augmented damping thanks to new valves while the 6D lean angle sensor inputs directly into the unit for a thorough outline of rider behavior.
Part of the updated range of KTM PowerParts specifically designed for the KTM 1290 SUPER ADVENTURE S is the Suspension Pro package that offers individual damping for the fork and the shock, automatic preload adjustment and an on/off Anti Dive setting. With the additional Rally Pack featuring the RALLY riding mode and the respective MTC slip adjuster, all of the Suspension Pro and Rally Pack features together with the Quickshifter+, the Motor Slip Regulation, the Hill Hold Control and the adaptive brake light are included in the all-in-one Tech Pack.
KTM 1290 SUPER ADVENTURE S – MODEL HIGHLIGHTS
New ergonomics -> new fuel tank, lower seat & new plastics
Reworked bodywork -> shorter chassis, new subframe & longer swingarm
Optimised weight distribution -> added agility & comfort
New generation electronics -> innovative ACC & reworked cornering MTC
More intuitive 7" TFT display -> optimal accessibility
Redesigned handlebar switches, improved CCU
Revised 1301cc LC8 engine -> 160 hp & 138 Nm
Next generation of Semi-Active Suspension
Remodeled optional technology -> Suspension Pro, Rally Pack & Tech Pack
Joachim Sauer – KTM Product Manager:
"The 2021 KTM 1290 SUPER ADVENTURE S is a sporty bike designed to offer unparalleled riding fun in any terrain. With this model KTM enters its third generation of big Travel-Enduro bikes for street and gravel adventurers. Collecting feedback from the market, we focused on enhancing rider feeling and ergonomics while introducing ground-breaking advancements, such as the Adaptive Cruise Control, the KTM way. To appreciate the magic of our ACC, you need to consider that the ideal roads to experience the thrilling performance of the KTM 1290 SUPER ADVENTURE S may lie hours away. With highways in between, ACC will let you breeze through the transit keeping you ready to strike whenever possible. The new generation model will carry you as far, long and as hard as you want while keeping the original KTM DNA strong with its elevated performance potential."
The new generation KTM 1290 SUPER ADVENTURE S will be available at KTM dealers starting March 2021, priced £14,999.00.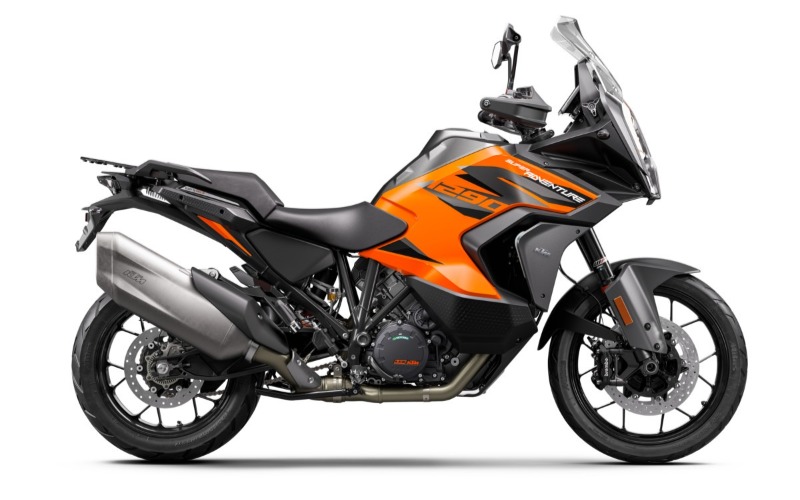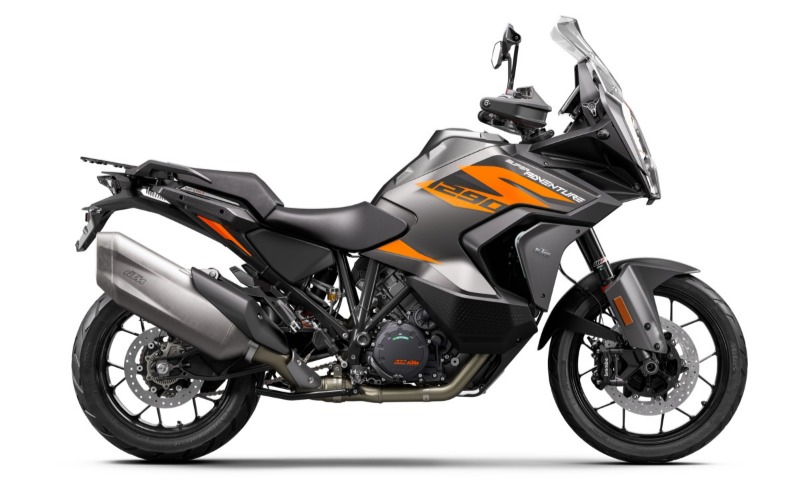 FRESH FROM THE GRINDSTONE
THE KTM 890 DUKE SHARPENS THE SCALPEL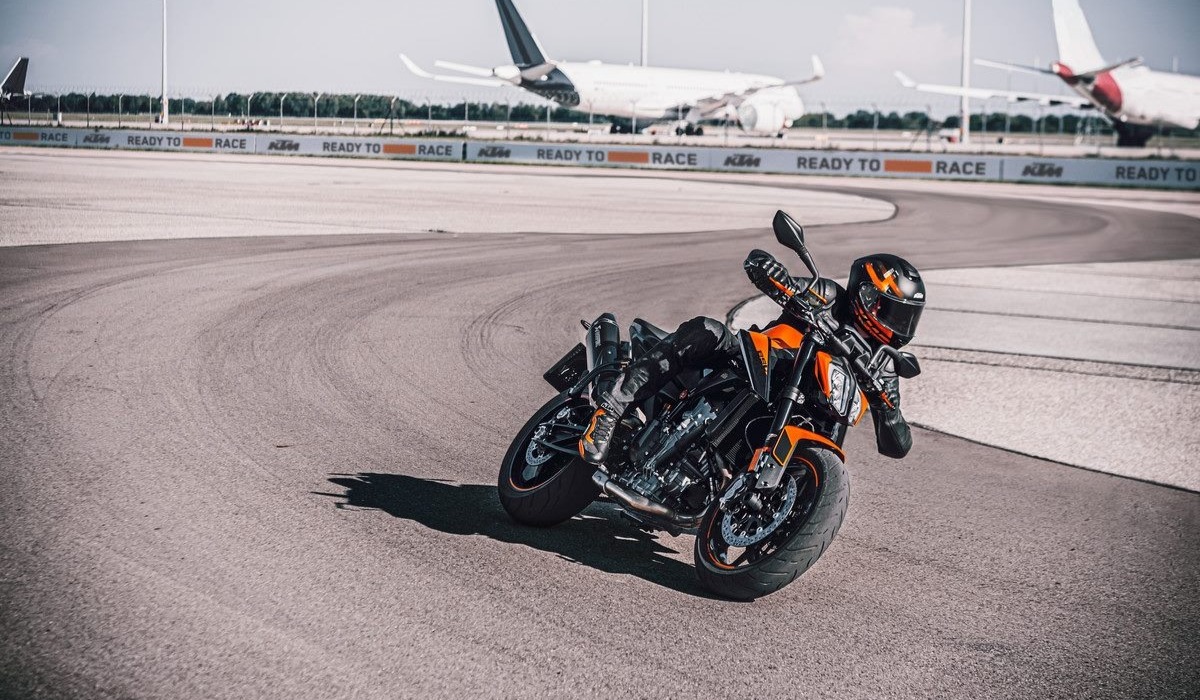 The journey has been quick and short. All the envious attributes of the LC8c parallel twin that caused a stir and stirred the emotions of riders young and old with the KTM 790 DUKE have found a new boundary. The reaction to the original SCALPEL motivated KTM to work more with the LC8c and line-up something to tease the desire of extreme petrolheads. The emergence of the KTM 890 DUKE R in the early part of 2020 was the answer: a track weapon, as much as a potent blast for country roads that harnessed all the boosted power of the LC8c and added a range of features that almost obliged riders to get their knees close to the tarmac. Now, staying firmly in the exhaust note of the KTM 890 DUKE R, the KTM 890 DUKE brings all the excellence of its acutely focused sister-version to be the new rapier for the road.
The styling of the KTM 890 DUKE will turn heads and the aesthetic makes this slim package of power and punch un-ignorable but the essence of the bike is the compact, light, throbbing source of all the fun located between the two wheels. The bigger displacement from 789cc to 889cc uses a more sophisticated mapping logic and is now pumping out 115 Hp and 92 Nm (10 more horsepower and 5 more newton meters of torque than the KTM 790 DUKE) and the increased rotating mass by 20% ensures better cornering stability and smoother engine action at lower revs and part throttle. Euro5 ready and offering 4,8l/100km through the 14l fuel tank; the speed is offset by keen practicality.
While all the horses are straining to be free, the KTM 890 DUKE can either be gunned or gently guided; creating a large grin for all ages and abilities. The KTM 890 DUKE is 'midweight' only through concept, the kilos and the nimbleness of the handling alone: the rest is rasping performance and state-of-the-art ride by wire electronics. This bike will stare down all rivals on the road.
Filtered through the light sensitive, customizable TFT display the rider aids span RAIN MODE (smooth throttle response, maximum traction control, reduced power and anti-wheelie), STREET MODE (standard throttle response, normal TC, full power, anti-wheelie) and SPORT MODE (sport response, reduced TC, full power, anti-wheelie). For those tempted by the full potential of the KTM 890 DUKE the optional TRACK MODE allows the setting to be tweaked for time attacks. Traction control can be increased or lowered on a nine-gauge scale, anti-wheelie can be disengaged, and throttle response has three levels. Launch control fixes the engine at the ideal RPM to assist with pacey standing starts. A 6D lean angle sensor means that the ECU is filtering a wealth of information and input from the bike's behavior and positioning for optimum feedback.
Cornering ABS helps the 300mm twin floating discs with improved calipers and pads for stronger force haul the whole show to a safe halt. Getting going at a swift pace is easier thanks to the shorter shift lever, lighter springs and augmented Quickshifter+ (optional) settings.
The handling of the KTM 890 DUKE comes into play with the fitting of the tubular CroMo steel frame with a cast aluminum subframe, stiffly set for a sporty feel and a pinpoint sensation. The LC8c is central again thanks to its role as a stressed member of the chassis. Despite the technical 'growth' the KTM 890 DUKE keeps the same weight as its predecessor at a flighty 169 kg (dry). The subframe is innovative with the whole single unit containing the air intakes and airbox; designed to be simplistic, minimal and light. The KTM 890 DUKE glides thanks to updated and upgraded WP APEX Suspension (43mm open cartridge upside-down forks) and gas assisted rear shock. 'Ergo' is less purposeful than the all-action KTM 890 DUKE R and created to accommodate a wide demographic of rider, with a lower seat height of 820mm.The KTM 890 DUKE is clearly part of the DUKE family. The lines are unmistakably KTM, where every centimeter of the bike has been combed and analyzed for purpose. There are no unnecessary edges, angles or parts nor plastics that do not contribute to performance of the unique KTM 890 DUKE feeling. As an example: the condensed taillight is integrated into the plate holder, reducing dimensions and freeing up customization for the rear end.
Other details include a full LED lights set, tubeless wheels, superb and well-tested new Continental ContiRoad tires (providing excellent grip in the wet, strong stability and a very short 'warm-up' phase) as well as KTM myRide App compatibility. A wide complement of KTM PowerParts (from Akrapovic slip-on exhausts to sprocket covers) and KTM PowerWear options are other elements that help the KTM 890 DUKE become the sharpest tool in the naked bike 'box'.
KTM 890 DUKE – MODEL HIGHLIGHTS
Larger displacement from 789cc to 889cc and Euro5 ready
Increased engine performance to 115 Hp and 92 Nm
Extreme power to weight ratio, peerless agility
Updated APEX WP Suspension technology
Updated electronics package with a 6D lean angle sensor & optional TRACK MODE
Improved braking potential thanks to system upgrade
Distinctive, functional and stylistic aesthetics: DUKE spirit
New high-performing Continental ContiRoad tires
Adriaan Sinke, Head of KTM Product Management: "With the KTM 890 DUKE R we knew we were bringing a bike that was distinctly KTM to the market and it was only a matter of time before we could reshape that package to introduce the ideal second generation of THE SCALPEL. We found where we could either improve or offer the rider more than could be found on the KTM 790 DUKE. The KTM 890 DUKE is stuffed with the DNA of KTM: READY TO RACE, technically advanced and engineered to meet the demands of any rider. It takes pride of place in the DUKE family and is another big statement in not only the midweight market but also the naked bike segment. I'd normally tell riders to enjoy this one but, this time, there is really no need."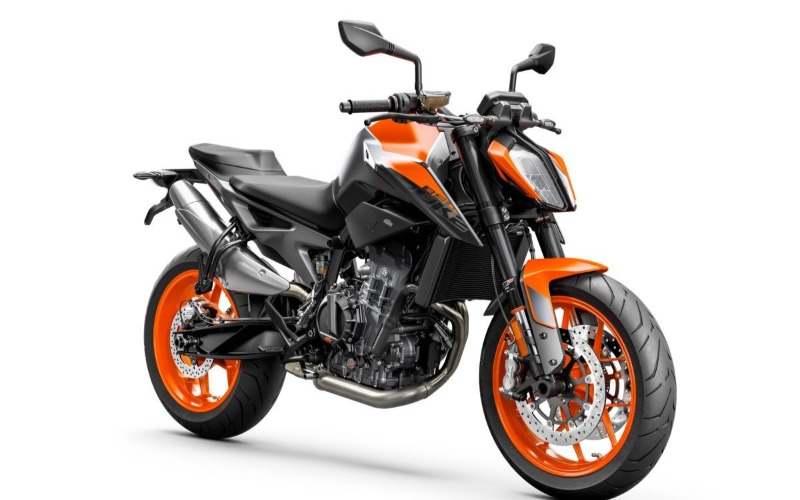 890 DUKE 2021 ORANGE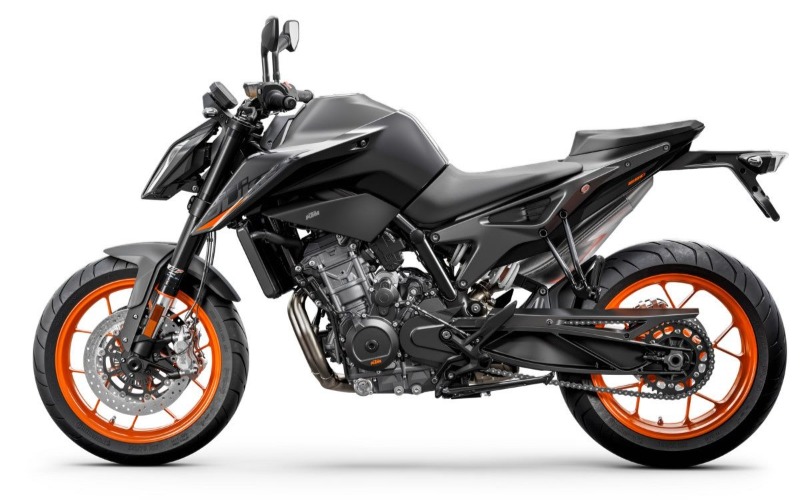 890 DUKE 2021 BLACK
2021 KTM DUKES
FEEL THE RIDE, LOOK THE PART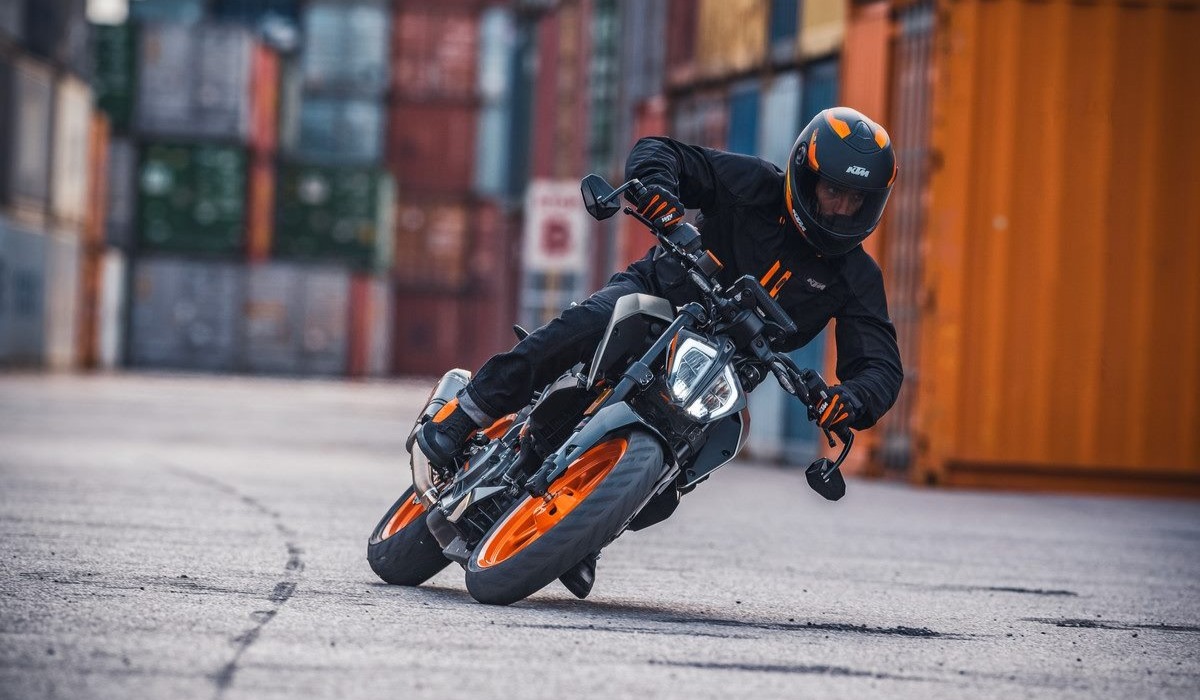 Picture a road. Is it wide, smooth and empty? Is it busy with traffic? Does it take you from 'A to B' or is it open and inviting? Do you pass mountains and amazing landscapes? Or are you gliding past buildings and urbanity with ease and freedom? We all have a vision of our journey and the spellbinding array of 2021 KTM naked bikes and the famous KTM DUKE family is a passport to excitement and mobility.
The KTM 125 DUKE is power in a small, well-directed punch. Don't settle for a step-through or some other bland characterless option: the KTM 125 DUKE allows you to look and feel different. Young riders or new riders will relish that distinctive sense of identity that all bikers enjoy. Cruising the city, escaping for the day or even daring to drag a knee, the KTM 125 DUKE harnesses all the style and performance guidelines of its senior brothers to fantastic effect. It truly is THE SPAWN OF THE BEAST.
The fuel injected, light, compact motor – now Euro5 ready – pumps out A1-applicable 15 Hp (11kw) thanks to state-of-the-art injection electronics. Fuel consumption is as efficient (a 300km reach) as the handling is sharp. The flighty behavior comes courtesy of the agile chassis and low centralization. WP Suspension upside-down forks, and a shock with an adjustable preload – take any luggage or passenger you want – complement other specs like the BYBRE brakes with a 300mm front disc and 230mm rear, dual channel ABS, 17" cast alloy wheels and a range of juicy KTM PowerParts upgrades in order to really embrace the KTM DUKE vibe.
For 2021 the bike is arguably more aesthetic than ever with two different color schemes. In one example a classy gray is offset by the striking orange trellis frame and the sporty profile of the silencer. It's fetching and minimal but functional and instantly appealing. Bystanders will have to look twice to differentiate the KTM 125 DUKE from its larger siblings.
Those with more mileage in their right hands or seeking a potent CORNER ROCKET will satisfy their quest with the KTM 390 DUKE. The bike is a deft touch. The glide from street, dual carriage ways to country lanes and rapid blasts of fun has never felt simpler. It's a dream for an A2 license holder or even for those who want to wear a grin with their daily commuting grind. The KTM 390 DUKE brings enviable power-to-weight performance to the market. The Euro5-compatible motor churns out 44 Hp (32kw) at a dry weight of less than 150kg. Ride by wire, 46mm throttle bodies and a slipper clutch administer the output, and a 13.4l tank ensures the glee is sustained over distance. An optional Quickshifter+ for 2021 is a must. ABS is fed through the BYBRE brake package and riders will be able to clearly tell if SUPERMOTO MODE is engaged thanks to the wide TFT dash display. The view will be steady and reassuring thanks to the WP Suspension forks with open-cartridge tech and the 150mm adjustable shock.
Have a napkin to hand because the 2021 gray and white color options are mouth-watering. We defy onlookers to spot the difference between the KTM 390 DUKE and the other bigger members of the range. The blend of shades from the tank, frame and subframe as well as front mask and LED headlight and finely integrated pillion seat will stir the soul. Riders will love the playfulness of the KTM 390 DUKE but will also get a kick out of their appearance on the highway.
There are simply no boundaries in 2021. Picture a road. Are you there yet?
Adriaan Sinke, Head of KTM Product Management: "We have a lot of pride in the KTM DUKE range because we know the motorcycles can offer so much performance and pleasure for fantastic value. There is a bike to suit whatever taste or preference or principal use. We believe the KTM 125 DUKE is an absolute reference in the category and young riders won't find a more exciting buzz on two wheels. The KTM 390 DUKE could be considered a step-up, and corners like a dream. The technical specifications speak for themselves. Updating the look and style of the KTM DUKEs was an important move for us and we feel we've hit the mark for 2021."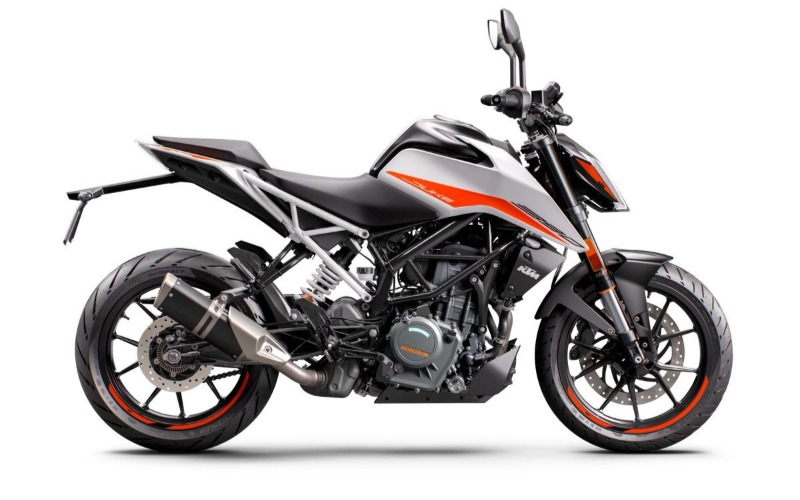 390 DUKE 2021 – WHITE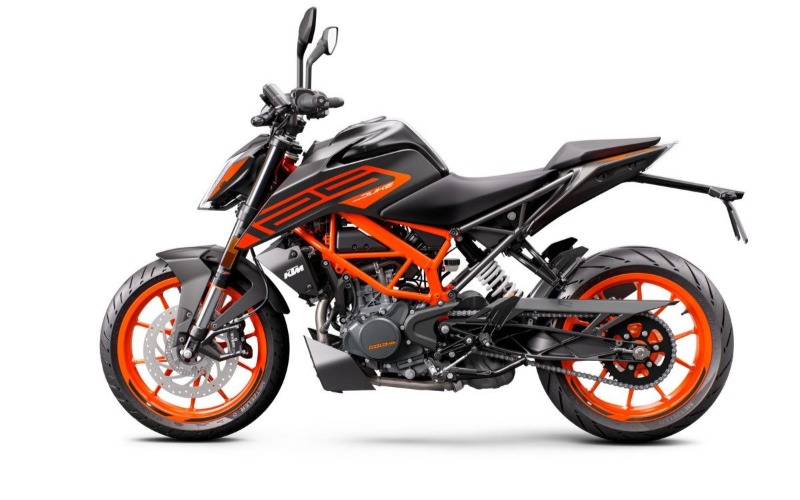 125 DUKE 2021 – BLACK
KTM UNVEILS 2021 KTM 250 SX-F TROY LEE DESIGNS MOTOCROSS MACHINE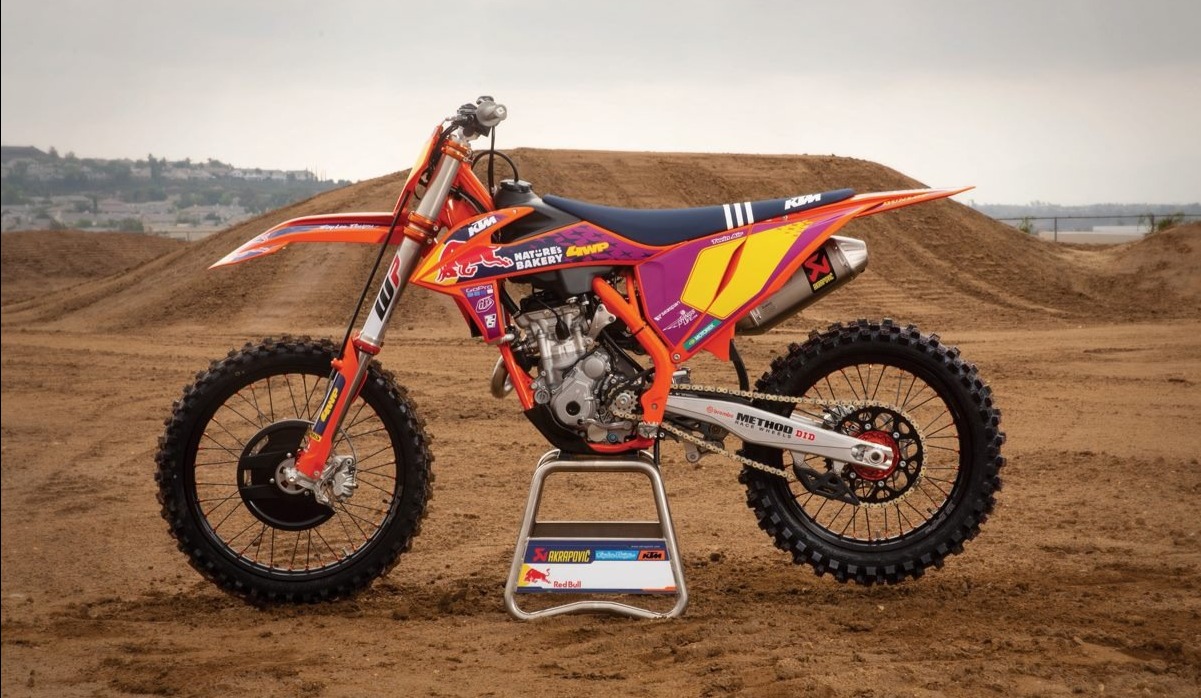 Developed with feedback directly from elite Supercross and Motocross racers, the limited- edition KTM 250 SX-F TROY LEE DESIGNS comes with meticulously selected and race-derived upgrades over the already agile and powerful KTM 250 SX-F. The KTM 250 SX-F TROY LEE DESIGNS benefits from premium WP XACT suspension, an ultra-lightweight chromoly steel frame, powerful Brembo brakes and a handlebar-mounted map switch that selects between two engine maps and activates traction and launch control to manage the highly-tuned DOHC engine.
Combining these performance features, found standard on all KTM 4-stroke motocross models, with the race-proven upgrades specified on the KTM 250 SX-F TROY LEE DESIGNS make this machine an absolute weapon out on the track. One of the highlights of this machine is the standard Connectivity Unit, which combined with the free-to-download myKTM App together they offer easy engine and suspension set -up via a smartphone.
Among the list of enhancements found on the KTM 250 SX-F TROY LEE DESIGNS are the high-end Factory wheels. They feature black D.I.D DirtStar rims and fully CNC-machined orange anodized hubs. Together with black spokes and orange anodized aluminum nipples, they guarantee minimal weight at maximum stability, putting the rider in total control.
Dunlop Geomax MX 33 tires put the power to the ground using the proven block-within-a-block design to keep driving forward. Factory triple clamps anodized in orange perfectly fit with the WP XACT forks and have a precisely calculated stiffness to match the flex characteristics of the frame and fork. The result is a front end that all works in perfect harmony, contributing to the bike's next-level handling and stability.
The KTM 250 SX-F TROY LEE DESIGNS also comes with an Akrapovic Slip-On silencer as standard that further improves the low-end grunt of the 250 cc engine, while reducing weight thanks to its titanium construction. Designed to dominate the competition, a Factory start for the fork to lock in holeshots and a composite skid plate to protect vital components are also included. In addition, the bike has a semi-floating front disc ensuring maximum braking performance, a front brake disc guard, and a lightweight black aluminum rear sprocket. A billet Hinson clutch cover has been added for increased durability and to enhance the factory look.
Sure to catch a lot of attention out on the track, the special graphics found exclusively on the KTM 250 SX-F TROY LEE DESIGNS embrace the unique creativity that goes into every detail of the Troy Lee Designs/Red Bull/KTM Factory Racing's race day aesthetic. An iconic blue seat cover with silicone strips contributes to the bold looks of the bike and provides optimal feel and grip for the rider. Offering a fast and aggressive look, the inlay graphics and technical touches perfectly replicate the race machines of the US-based TLD race team and set this machine apart from anything else in the motocross catalog.
KTM 250 SX-F TROY LEE DESIGNS – MODEL HIGHLIGHTS
Orange frame & special TLD team graphics
Akrapovic Slip-on silencer
Connectivity Unit fitted as standard
Ability to connect with the innovative myKTM app
Factory triple clamps anodized in orange
KTM Factory wheels
Factory holeshot device in the fork guards
Composite skid plate
Special TLD gripper seat
Semi-floating front disc
Front brake disc guard
Black rear sprocket
Hinson clutch cover
KTM 2021 EXC RANGE
REACH NEW HEIGHTS OF ENDURO PERFORMANCE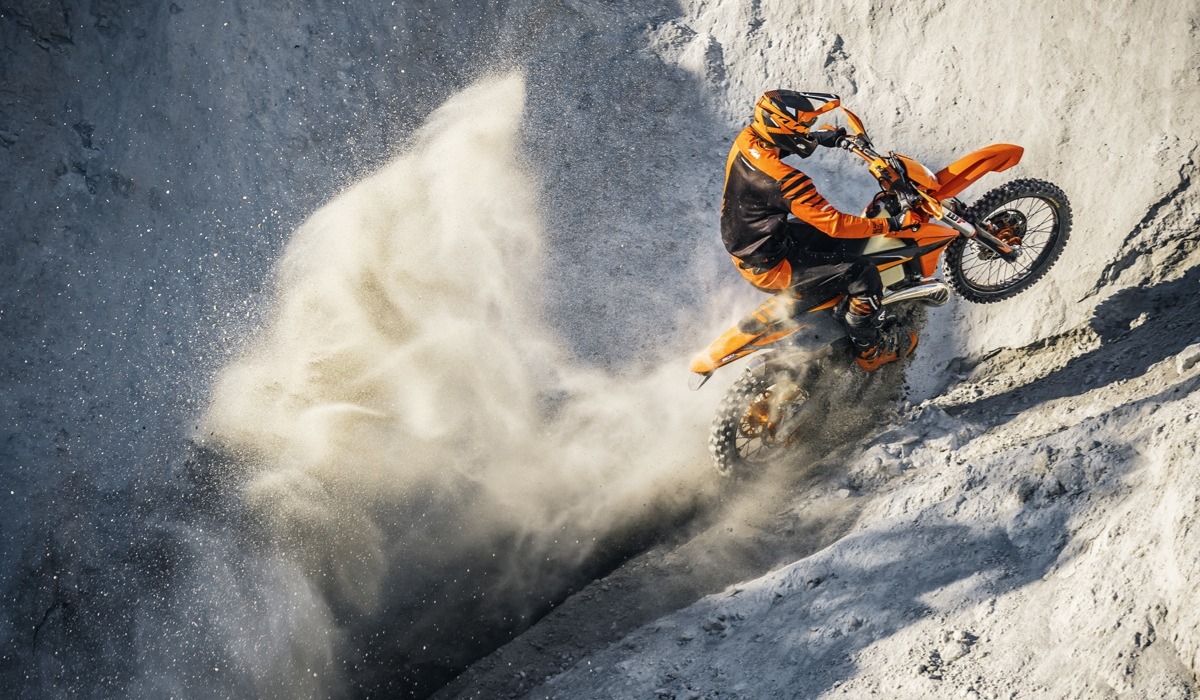 For 2021 the combination of three 2-stroke models with the ground-breaking transfer port injection (TPI) system and four 4-strokes ensure that adult riders and racers of all ages and abilities will have the equipment to suit their needs whether for competition or the ultimate play weapon on the toughest trails around the globe.
KTM's expertise and experience from the WESS Enduro World Championship and several other racing disciplines worldwide drip into the evolving shape of KTM EXC technology. As the latest expression of KTM's offroad vision, the 2021 KTM EXC portfolio is denoted through a fresh and truly READY TO RACE livery. The major upgrades for 2021 take the form of changes to suspension components, as well as engine reinforcements and brand-new graphics.
The KTM 300 EXC TPI is the leading 2-stroke with an impressive power-to-weight ratio and supreme handling to thrill even the most demanding rider. 2021 marks the fourth year of KTM's advanced and electronically controlled 2-stroke fuel injection system. Breathing new life into the 2-stroke engine, TPI extended the possibilities for performance, rider sensation and the delivery of dependable power right into the rider's fingers. The advantages are obvious: there is no need for re-jetting or concern for the climate, altitude or conditions. Automatic and electronically applied lubrication is another major asset.
As with all KTM EXC motorcycles in the 2021 ensemble, the KTM 300 EXC TPI benefits from an additional preload adjuster in the WP XPLOR front fork that allows for easy setting changes for varying track or trail conditions. Additionally, the ultra-lightweight KTM 150 EXC TPI has been given a new piston, which brings increased performance in terms of consistency.
KTM refuses to knock down a gear in its mission to continue making the KTM EXC-F models the best 4-stroke Enduro machines in the market. The level of the 2021 KTM EXC-F models not only ensures their presence near the top of race standings, but also makes them serious consideration for riders of any skill range. While the KTM 350 EXC-F is the definitive statement of a bike that welds the power of a 450 with the handling prowess of a 250, the new KTM 450 EXC-F and rasping KTM 500 EXC-F powerhouses take advantage of reworked shift lockers.
The 2021 KTM EXC range is further enhanced by the KTM EXC SIX DAYS models and the KTM 300 EXC TPI ERZBERGRODEO, a series of limited-edition machines designed to conquer the toughest trails and most demanding races. The new KTM 300 EXC TPI ERZBERGRODEO is a special tribute to the iconic ErzbergRodeo Red Bull Hare Scramble. A truly limited-edition machine, the KTM 300 EXC TPI ERZBERGRODEO features a long list of special parts that reinforce its READY TO RACE bloodline.
The updated KTM EXC SIX DAYS range continues a tradition that sees KTM enhance its Enduro line-up with a series of truly race-ready machines. For 2021, the KTM EXC SIX DAYS models demonstrate KTM's continuous support to the historic International Six Days Enduro. In each of these models, KTM has developed a race-winning package that is ready for the hardest special tests straight out of the crate.
Alongside the 2021 KTM EXC models, dedicated line-ups of KTM PowerWear and KTM PowerParts have been developed to deliver the highest levels of performance, protection and agility for both the rider and their motorcycle.
Bikes will be arriving from July onwards. For more information see the enduro range here..