GASGAS EXPANDS ITS MINI ELECTRIC DIRT BIKE LINE-UP WITH THE RADICAL MC-E 2!
ALL-NEW BATTERY-POWERED MODEL MAKES IT EVEN EASIER FOR KIDS TO RIDE OFFROAD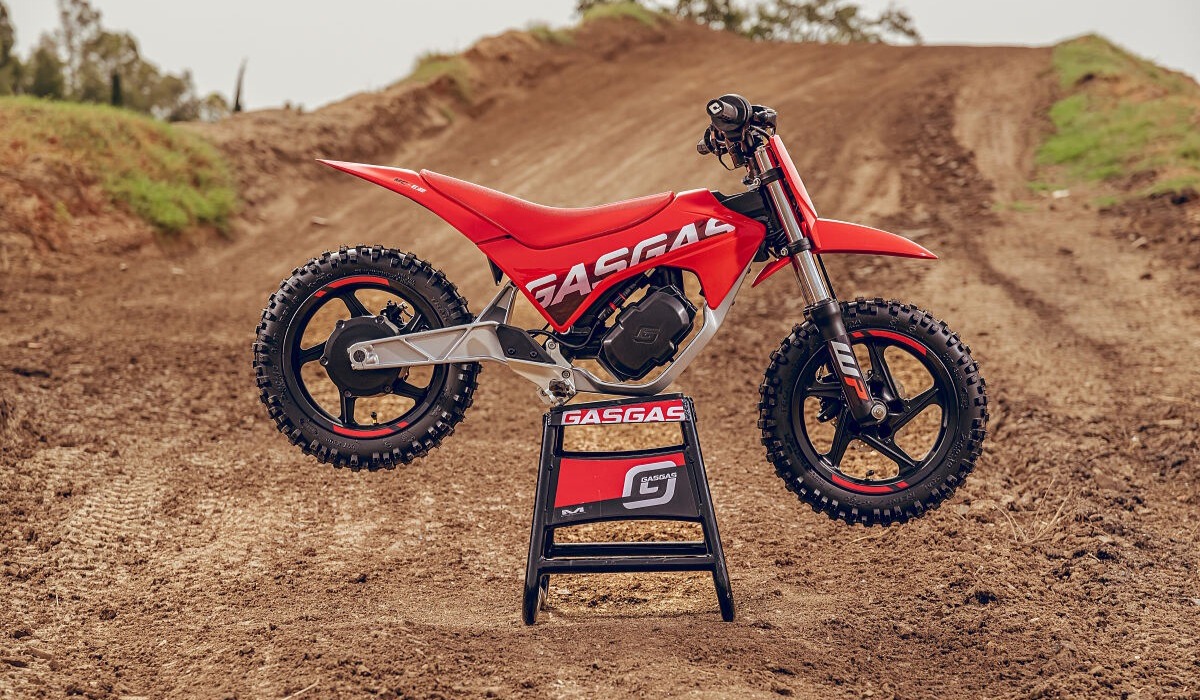 There's a brand-new GASGAS in town and we're stoked about it! The battery-powered MC-E 2 is designed for young kids to safely and easily discover the thrills of offroad riding. Make no mistake, this little red ripper raises the bar sky high – so high that we're sure it'll leave all similarly sized and spec'd dirt bikes, e-powered or otherwise, in its dust!
New MC-E 2 changes the game for kids learning to ride offroad
Size adjustability, three ride modes and disc brakes ensure safe progression
Available in Authorised GASGAS Dealers from November 2023
Modern design, built with the latest technology and so much fun to ride, thanks to its low weight and WP suspension, every kid will absolutely love the MC-E 2. One of the bike's coolest features, hands down, is that it can be easily adjusted in size with only basic tools required. So as the little riders grow, they can keep on riding the MC-E 2 for longer before jumping up to a bigger bike.
Parents will love the MC-E 2 too as it's assembled with quality components and needs little to no maintenance to keep it running sweet. Plus, the three ride modes allow for safe and progressive learning and with the motor neatly housed inside the rear wheel's hub, there's no better or safer dirt bike out there.
Technical Highlights
Removeable Li-ion power tool battery – Easy to remove and recharge, the universal power tool style fitment means fully charged spare batteries can be fitted quickly and easily
Fast recharging – It only takes one hour for a full recharge, with an 80% charge taking just 35 minutes
Adjustable ergonomics – The MC-E 2 can be adjusted in size – between 90-130cm – so as children grow they can continue developing their skills on the same bike, and the standard seat height of 470mm can easily be increased to 500mm with basic tools
Low maintenance – Battery-powered, no chain, no sprockets – just simple, hassle-free riding
Safety features – The motor only provides power after the throttle has been twisted forward slightly and in addition to a conventional kill switch, a rollover sensor cuts power when the MC-E 2 is laid down
Disc brakes – No old-school drum brakes here – front and rear disc brakes create some serious stopping power, giving riders complete control and bags of confidence10" wheels – Strong, maintenance-free wheels wrapped in KENDA knobbly tyres are perfect for offroad riding
Low centre of gravity – Gives the bike a very lightweight feel, making it super easy to ride
Lightweight – The MC-E 2's lightweight construction – it tips the scales at just 27 kg – means that in the event of an off youngsters can pick it up easily and allows them to ride for longer
Modern design – The MC-E 2 is a brand new, modern dirt bike with graphics inspired by our bigger bikes
Top speed of 20 mp/h – Yeah, the MC-E 2 can be fast with mode three engaged! Mode two allows for speeds of up to circa 12 mp/h while the lowest setting, mode one, lets kids get to grips with offroad riding safely with a modest top speed of around 5 mp/h
The all-new MC-E 2 is available from November 2023 onwards for £2,399.